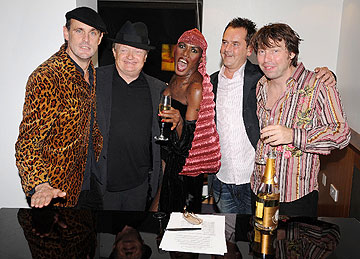 Here's a picture of Grace Jones signing her new record deal. We don't know who all four of these men are but we imagine they're in for an enter­tain­ing time.
Here's some waffle that came with the press release, which you may or may not find of interest.
Prepare for the storm; the Hurricane is coming…
Grace Jones to release first studio album in over two decades as she signs deal with Wall Of Sound.
London, England — 30th June 2008
Pop sorceress, iconic diva and mul­ti­me­dia fash­ionista Grace Jones returns this year to release her first studio album in over two decades, entitled 'Hurricane', on October 27th, 2008 in the UK.
Following her one off London Show at the Royal Festival Hall on June 19th for Massive Attack's Meltdown series of concerts, which received critical acclaim across the board, cult indie label Wall of Sound today announce the release of what will be one of the most anti­cip­ated albums of the year, if not the decade. PIAS, parent company of Wall Of Sound, will also dis­trib­ute the album worldwide excluding North America.
On the show itself, The Times called it a "sen­sa­tional return to form", whilst the Telegraph observed that "all around the gawping, whistling, cheering Festival Hall was the sense that this is how a star should be". The Guardian confirmed how "she is an ongoing per­form­ance art project…what resonates is not any one song, but Jones' unpar­alleled presence".
Says Mark Jones, Managing Director of Wall of Sound — "It's an absolute honour and privilege to be working with Grace. No one has inspired more people whatever race, sex, colour or creed to be who they want to be and so much more. Her new album will not only re-establish her as one of the world's most important artists but also introduce her to a new gen­er­a­tion of music lovers".
Jones, who pioneered avant-garde pop, fashion and culture has been working with various purveyors of pop per­fec­tion. The album was produced by Ivor Guest and Grace herself and includes per­form­ances from Sly and Robbie and Brian Eno.
Grace this week, on signing to Wall Of Sound and the new record; simply said 'Grrrrrrr'.
The London show also saw Jones premiere for the very first time four new tracks for the forth­com­ing LP, including the much cited 'Corporate Cannibal', a thun­der­ous, epic emo­tion­ally charged monster of sonic wonder, illus­trat­ing how the 56 year old Jamaican born diva can redefine the bound­ar­ies of convention.
Her last studio album was Bulletproof Heart, released in 1989 on Capitol Records.
Says Brendan Coyle of CMO Management on the forth­com­ing record -
"Hurricane continues Graces' legacy of timeless, classic music, which after the dust settles will remain as fresh in 20 years time as it is today. Grace is an Icon who Inspires, Challenges and furrows her own unique path, which many have followed and will continue to follow. Lock down, and prepare for Hurricane Grace".
With more news to be announced soon, Grace will also be head­lining the Secret Garden Party Festival in Huntingdon, in the UK on Saturday 26th July.
There you go.