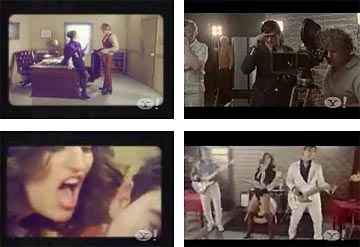 Good news for fans of pop and por­no­graphy: Dragonette have made a video based on 'Boogie Nights'. It is for their next single, the com­pletely incred­ible 'Take It Like A Man'.
You have got to admire the bollocks of a pop band who respond to a Number 92 single by, rightly, releasing a song more likely to get played on the radio… Then accom­pa­ny­ing it with a video less likely to get played on the telly.
Click here to watch the video on Yahoo (also suitable for fans of the word 'buffering'), or watch it in the YouTube box below. WARNING: You don't get to admire any bollocks.
httpv://www.youtube.com/watch?v=e2pRMT8fd2g

Here's the sleeve. (WARNING #2: DO NOT LOOK AT THE ARMPITS.)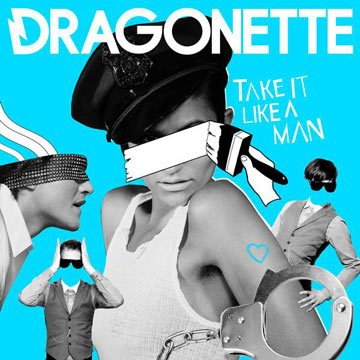 The point at which a band releases their first single and sees it struggle to get inside the Top 100 would normally also be the point at which we decided we didn't say they were any good in the first place before quietly opting to never mention them ever again. Regardless of initial excite­ment, there is a point at which anybody — fan, record label, journ­al­ist, band member — has to move on and find something new to get excited about, if only for the sake of their own dignity.
The reason we are not doing any of that with Dragonette and will continue to go slightly mental about the band and their music whether 'Take It Like A Man' goes to Number 5 or Number 195 is that they are our favourite new pop act of the last four years and we continue to be so obsessed with their album that it's difficult to recall a single day in the last six months we haven't listened to it, or at least bits of it.
No other album in recent memory has been so resilient and so per­sist­ently listen­able over such a long period of time. Not 'Chemistry', not 'Confessions On A Dance Floor'. (We're already bored of the Rihanna album FYI.) Unbelievably, Dragonette's 'Galore' is still getting better, still revealing hidden tricks and new pockets of excite­ment, with every listen. It doesn't hurt that Dragonette throw into the mix an undeni­ably cha­ris­matic col­lect­ive persona which elevates the band above most others, along with brilliant live shows.
We know that sometimes with Popjustice it is difficult for you to tell what we really think about pop music because everything is polarised into being either 'amazing' or 'the worst record of all time', but Dragonette and par­tic­u­larly 'Galore' are in a com­pletely different league to any of that.
Too often, bands and artists are said to 'deserve' success. Simply because they've tried really hard, or because they've played loads of gigs, or because they've been at it for ages, or whatever. None of those reasons actually explain why someone should sell a single CD or download. There are whole rafts of pop acts (and guitar bands, and dance duos, and emo outfits) on MySpace who believe they deserve something. For what? The pop charts are not a charity. The only possible area of the music industry where success is in any way related to the misguided notion that anyone 'deserves' anything is in the voting habits of your gran watching X Factor. Elsewhere, it means nothing. But Dragonette do deserve success, and for the only reasons that matter, have ever mattered, and will ever matter: they're great and they've got great songs.
Oh, and let's not forget: