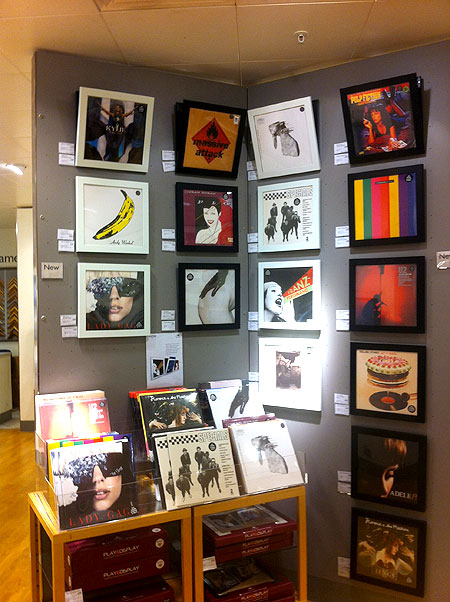 We mentioned this 'Play & Display' thing on Twitter the other week but here's a photo of it brought to life in John Lewis. What's happened here is that John Lewis are allowing you to buy a 'classic' album and put it on your wall in a frame.
We suppose the idea is fairly sound: buy an album you like (but don't like enough to already own on vinyl or CD) for £20 (that's TWENTY POUNDS)…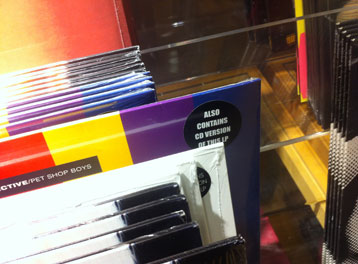 …and then purchase a special frame to put it in…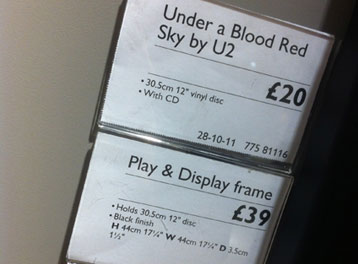 …even though the packaging is not very nice so it probably wouldn't work as a gift even though this must be aimed at the gift market…
…and then stick it on your wall.
What's wrong with this?
1. Basic LP frames have been around forever already, are a lot cheaper than these ones, and look a lot nicer than these bulky-framed efforts.
2. It's expensive. £39 for the frame and £20 for the album means you're looking at £59 for the whole thing. That doesn't make sense against (for example) these much more simple and elegant LP frames which Urban Outfitters are knocking out for £12 (on special offer with the second one half price, meaning £9 each) then hitting eBay for the vinyl you want (or, like we say, just digging out the copy you already own if you like it so much).
3. Selling the 'vinyl and CD edition' packages like this is very odd. The idea of pur­chas­ing an item man­u­fac­tured simply to be put on walls simply to put it on a wall sort of knocks the whole cutesy nos­t­a­li­gia 'vibe' out of this. In fact it com­pletely goes against the idea of fet­ish­ising the concept of the classic album and the bygone era of the vinyl album because the "buy an album to put on your wall" idea is not something that brings to mind the innocence and beauty of pop's hallowed past; rather, it is symp­to­matic of the panic, the des­per­a­tion and the aimless quest for cash that char­ac­ter­ises many parts of the music business in 2012. Mind you, in John Lewis' defence, it does make sense to sell things to go in these frames. But even so.