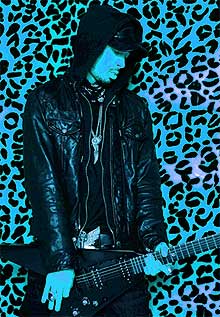 If you listened to yesterday's Song Of The Day you will already have heard about this so you can go and make a cup of tea or something. If you didn't…
Well, it should go without saying that Dallas Austin is the man behind some totally spec­tac­u­lar songs by famous singers. If it doesn't go without saying, have a little think about this list of songs we've copied off Wikipedia.
'Ain't 2 Proud 2 Beg' by TLC
'Cool' by Gwen Stefani
'Creep' by TLC
'Danger Zone' by Gwen Stefani
'Don't Let Me Get Me' by Pink
'Don't Take It Personal' by Monica
'Gotta Be You' by Sugababes
'Hit 'Em Up Style (Oops!)' by Blu Cantrell
'Just like a Pill' by Pink
'Left Outside Alone' by Anastacia
'Like This and Like That' by Monica
'Motownphilly' by Boyz II Men
'Obsession' by Sugababes
'Push the Button' by Sugababes
'Trick Me' by Kelis
'Ugly' by Sugababes
'Unpretty' by TLC
Not one of those songs is anything less than fucking amazing.
ANYWAY he seems to have his own 'artist' thing going on at the moment called The Dallas Austin Experience and one of the afore­men­tioned Experience's songs is called 'Hot Girls In The Bathroom'. It's about attract­ive women taking drugs in the toilet, not fevered children shitting in a basin. It's great.
So there you go.
There's some other stuff on his MySpace, too — have a look and listen at www.myspace.com/dallasaustin.