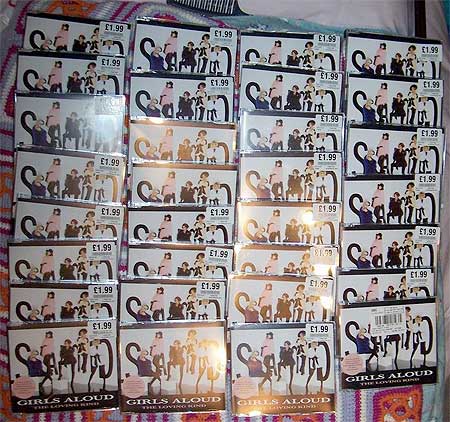 Congratulations to Girls Aloud, who last night racked up their twentieth con­sec­ut­ive Top 10 single with 'The Loving Kind'.
It was touch and go through­out last week as midweek figures put the single at Number 10 and fans were so terrified that a break in the run of Top 10s would spell the end of Girls Aloud that they took to desperate mul­ti­buy­ing. The picture above is from a Girls Aloud fan forum.
Here, meanwhile, is what a Popjustice forum member did for the cause.
"My (honest) con­tri­bu­tion has been:
2 x The Loving Kind single (1 pre-ordered, 1 ordered yesterday)
1 x download of album version
2 x single bundles (1 itunes, 1 7digital)
1 x Vinyl
1 x Single version
I cannot do anymore, i only lost my job a week ago!"
Girls Aloud's own input? Well, they fucked off on holiday for three months meaning that there was no promotion for the single this side of Christmas, which is the whole reason the track was strug­gling to stay in the Top 10 in the first place. The fan whose multiple copies of 'The Loving Kind' are pictured above has basically paid £61.38 for Girls Aloud to go on holday.
There's a slight lack of logic in fans having to buy multiple copies of a track to prove how popular the band are, and it's a shame that fans' desperate attempts to hit the 'twenty con­sec­ut­ive Top 10 singles' mark have actually devalued the band's genuinely impress­ive achieve­ment. Whenever the record is mentioned, 'The Loving Kind' will always be the one that was probably hyped there by fans.
But, putting all that aside — what an incred­ible run of singles. The only shit ones have been cover versions or ballads (or both at once). The best Girls Aloud single from the first twenty? 'Call The Shots'.
httpv://www.youtube.com/watch?v=k9QO748_ooA

Literally, amazing.