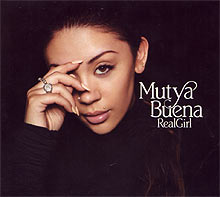 Some people are already over Mutya, bandying around phrases like "boring live", "can't she do something a bit more like 'Freak Like Me'" and "who is going to buy this music".
We say: for crying out loud, the single's not even out yet, stop the hating and let's have a listen to the album.
To make things easy we have given each song a 'Buenos Out Of Ten' rating.

'Just A Little Bit'
Despite being a session-musician-tastic, "let's have a jam and see what real music we come up with" sort of soul track, this is quite likeable.








'Real Girl'
This is a good song, hence it being the first single.










'Song 4 Mutya (Out Of Control)'
This is really good. We have mentioned this once or twice already.












'Strung Out'
This is the second-best song on the album.












'It's Not Easy'
"It's not easy being right all the time," trills everybody's favourite body-art obsessed pop lady who isn't Amy Winehouse. "Well, someone has to be." That is quite a good lyric for a chorus, isn't it?










'Suffer For Love'
Slow jam.







'Not Your Baby'
A bit like 'Rocksteady' by All Saints, but different. A bit brassy and upbeat.










'Wonderful'
This is the one we mentioned before, with the heart­break­ing "tomorrow I'm leaving this town and I'm not coming home" line. Beyond that it is Your Basic R&B Slow Jam.




'B Boy Baby'
Controversy alert! There has been some debate at PJ Towers over whether this is a) brilliant or b) The Worst Idea For A Song Of All Time. Basically one person thinks it is good and everyone else thinks things like, and we quote:
"

Hopefully Amy didn't remember recording this when she woke up the next day."
"She sounds like an asthmatic child strug­gling to cram as many things as possible in one stupid sentence."
"Too much saxophone not enough piano."
"No one but fat 40-year-olds who still ride skate­boards use the phrase 'b boy' anymore."
"It's a bit twee and has parts that sound like they could be off a shit Christmas record."
"Amy sounds bored through­out, and it just screams 'novelty song'."
"It's totally unne­ces­sary and unjus­ti­fi­able. But the presence of Amy Winehouse makes it accept­able. Which makes me wonder what else the addition of Amy Winehouse would render accept­able? Vivisection? Football hoo­ligan­ism? Wanking in the bath?"
"Bloody awful."

However you will be pleased to hear we are over­rul­ing all of those people and giving it seven Buenos out of ten.










'This Is Not (Real Love)'
THE WORST SONG YOU WILL HEAR IN YOUR LIFETIME EVEN IF YOU LIVE TO BE EIGHT HUNDRED YEARS OLD.
(No Buenos)

'Paperbag'
This is unfor­tu­nately not a cover of that Lene song about putting paper bags over boys' heads and shagging them while imagining they are your ex. Nor is it about cures for hiccups. It is an R&B mid-tempo jam. It is 'alright'.







'My Song'
Slow Jam.




VERDICT

A solid, six-Bueno album with some good singles on it.