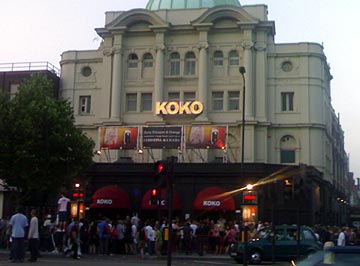 There are simple rules for a pop concert to follow, but when you are as famous and popular as Christina Aguilera you don't have to worry about things like The Rules.
Nor, if you're Christina Aguilera, do you have to worry about the over­whelm­ing sound of chatter from the audience — because your ears are already full of JAZZ and the BLUES.
She had her own pop concert last night at London's KoKo and we were there.
These are Christina's new Laws Of The Gig.
Don't really sing your own songs — just join in on the good bits.
Renege on a costume change. If you decide your sailor costume isn't as nice as what you had on before, you can AND WILL go off and change back again.
Don't save anything special for the encore. Something else 'jazz influ­enced with an R&B twist' will do nicely.
Make sure you are sponsored by a mobile phone company so that nobody is really sure if they are at an album launch or a corporate 'do'.
If you are going to do 'Lady Marmalade', do it without Lil' Kim, even though she is a free woman now and could quite easily have got on a plane or something and made the effort.
Don't
do many songs. Six will be fine. As long as one of them is a ballad
about being beautiful despite being fat or gay everyone will be happy.
So there you have it.