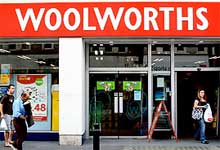 Like many of you, we bought our first singles in Woolworths.
In the late 80s we'd somehow inherited a cousin's old hi-fi and the East Grinstead branch of Woolies had, at the same time, clearly been having a clearout in their stockroom, because next to the Top 75 singles chart (they stocked the entire Top 75 singles chart!) and set apart from the con­ven­tional bargain bin there was a massive box full of 7" singles for 10p each.
We spent a £10 gift voucher on 100 of them. There was Whitney's 'I Wanna Dance With Somebody (Who Loves Me)', and Pepsi & Shirley's 'Goodbye Stranger', and Beastie Boys' 'No Sleep Til Brooklyn', as well as Sam Fox's 'Nothing's Gonna Stop Me Now' and Mirage's 'Jack Mix IV'. We must have spent hours there that Saturday — we'd certainly spent so long on our knees in the dirt of the Woolworths floor that our parents thought we had been kidnapped and bummed by strangers, meaning that we got shouted at when we got home.
Once we were allowed out of the house again we'd go back to Woolworths every week to see which new releases were stocked on the shelves, or which old releases had just been demoted to the bargain bin.
By last year, of course, the Woolies singles selection had been reduced to this…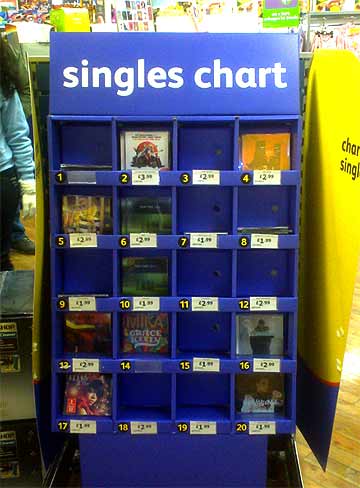 …and the last time we checked a branch there were no singles at all.
Times change and people — and music formats — move on, and it's odd to feel affection for a chain of high street stores, but Woolworths going tits up due to The Current Economic Climate will leave a sad little hole in Britain's shopping arcades.
httpv://www.youtube.com/watch?v=qQGb-cxuDIs

:(