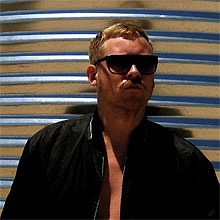 You might have noticed that yesterday's Song Of The Day was 'Johnny Come Home' by Jeppe Laursen, who is one half of Junior Senior. He always looked quite tall in their videos but as you can see in this picture (right) he is actually very small compared with a tin can.
He's in an LA studio RIGHT NOW — Stone Temple Pilots are in the studio next door, which Jeppe describes as "very essential LA" — and is ready to tell you, the Popjustice viewer, what he is up to.
"I'm working on a solo album," he says, "and I'm happily out of my Danish indie label contract — it's a very good thing these days to not be involved with labels until I finish the record myself. So I'm recording the album this summer with much help from my several talented friends."
He says that the plan is to put together a four-piece band over the summer — this will involve a guitarist, a key­board­ist, a drummer (hm…) and Jeppe on vocals. "I might base the band out of London if I can," he says, "as I'd love to get my dirty hands on British ground again. I'm very keen on that since Junior Senior's second album never was released in the UK."
Can we just point out at this point that Junior Senior's second album was amazing. Thank you.
Anyway Jeppe's recording the first single now with a view to getting it out next month, but in the meantime he's recorded a version of Fine Young Cannibals' 'Johnny Come Home'…
httpv://www.youtube.com/watch?v=LovPeifxtUo

…which you can download over at his MySpace: www.myspace.com/jeppe. Thomas from Private helped out recording the vocals on the track, although he didn't actually produce it 'per se'.
So there you go. Something poten­tially quite good to look out for over the summer months.
No news yet on our amazing idea for the Junior Senior Juniors but we still think it's a licence to print (not very much) money.