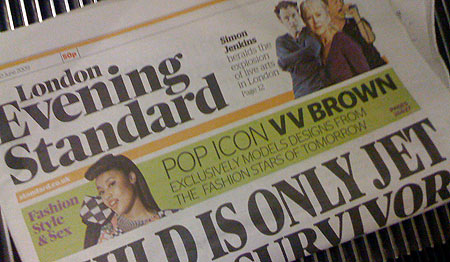 But let's face it — 'POP ICON'.
Seriously.
Come on.
Great tunes, lovely girl. Deserves to be doing loads better than she's currently doing. This isn't even a dig at the singer — it's the Standard.
Just stop for a moment.
Take a deep breath.
POP ICON.
Actually, thinking about it, perhaps the Standard aren't entirely to blame, and PERHAPS one shouldn't neces­sar­ily criticise them for attempt­ing to convince their readers that they've pulled in a pop icon to model clothes for a feature. The VV Brown awareness campaign has, in fact, been quite clever in an increas­ingly demented sort of way, in that while artists like Leona Lewis and even La Roux have made a fairly good name for them­selves by saying no to anything that didn't totally fit their image, VV Brown has made a sort-of career out of seeming to say no to precisely nothing.
This means that her name — like the dreaded phrase "…and Hot Chip DJs" — seems ubi­quit­ous in press releases we are sent about all manner corporate launches and heavily branded festivals. She is con­stantly voxpopped and inter­viewed and pho­to­graphed. This promotion she did for Orange probably sums things up best of all. Perhaps, in the Standard's defence (although it's really no defence at all in journ­al­istic terms), if you base your entire life on reading press releases and don't actually look outside the window, this constant drip-feed of profile-building public appear­ances could actually mean that VV Brown does seem a bit like a 'POP ICON'.
Hopefully it'll all pay off with some sniff of a hit record before Vanessa drops dead from exhaustion.