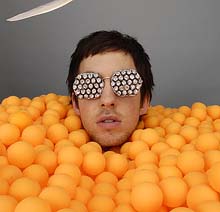 As you are already aware, The Ting Tings are quite amazing, and are just an occa­sional remix away from being very amazing.

Well there is now a remix for their next single 'Great DJ' and the man respons­ible for this is Calvin Harris. He has turned the already brilliant 'Great DJ' into something dif­fer­ently brilliant.

Our favourite bit is what Calvin has done with the drums.

Here is a clip of the remix in question.

[audio:greatdjcalvin.mp3]


And here is a link to Calvin's MySpace page where you are free hear the rest of the song.