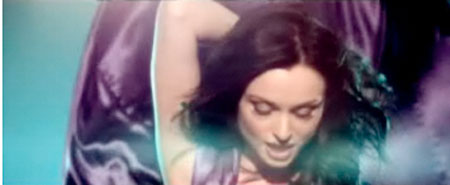 Sophie Ellis-Bextor has a new single out on May 3. 'Bittersweet'. We've discussed this already, don't pretend you don't know anything about it.
To recap:
1. It's amazing.
2. It sounds like 'You Spin Me Round (Like A Record)', Kylie's 'The One', assorted Freemasons remixes (it was co-done with the Freemasons, along with Biff and the per­en­ni­ally amazing Hannah Robinson), 'Blue Monday' (a bit) and some other stuff. EVERYTHING IT SOUNDS LIKE IS SUPREMELY BRILLIANT.
3. Anyway she's done a video and here's your first look.

Nice tram­po­line action.