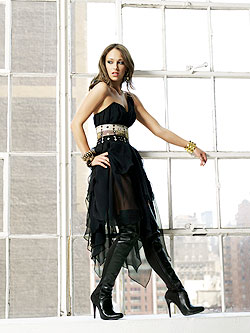 Do you remember 'child star' Kaci (Battaglia) from a few years ago? She had a couple of not very good singles including an aston­ish­ing cover of 'I Think I Love You' which remains one of pop's most water­tight examples of the phrase 'bad idea badly executed'.
Whether you remember Kaci or not is by the by really but:
a) She's grown up.
b) She's done a song that sounds like 'Womanizer', 'SOS' and 'Keeps Gettin' Better'.
c) Said song is called 'Crazy Possessive' and has a chorus lyric that goes "touch my man again and I'm going to fuck you up".
d) You can hear the song as today's Popjustice Song Of The Day or on Kaci's MySpace (the latter also includes the really very good Digital Dog mix).
e) The End.