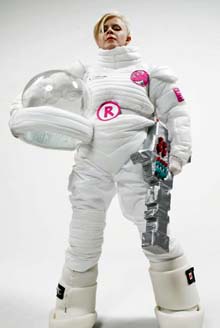 Let's have a look.

Number One: Another happy week for Basshunter.

Number Two: Adele is Britain's favourite London based soul singer this week. Amy Winehouse has never charted a solo single higher than Number Seven, Number Two fans.

Number Seven: The cash splashed on a Freemasons remix seems to have been money well spent for Kelly Rowland, who enjoys another UK Top Ten hit with, as has been widely reported (by us), her best single to date.

Number Ten: Robyn deserves credit if only for keeping Jay Sean out of the Top Ten.

Number 21: In what must be the most irrit­at­ing chart run in history, Booty Luv continue to bob around the Top 20. They will need to pull something enormous out of the pro­ver­bial bag to bounce this into the Top 15.

Number 22: David Jordan has now sold some music. THE RECORD INDUSTRY IS SAVED etc.

Number 72: Not the biggest hit in Jennifer Lopez's career, all told.
In albums, just outside what might be the most unin­spir­ing Top Ten of all time the Robyn album continues to sell very well and is happily sand­wiched between The Wombats and Radiohead. (That's right viewers, after a month on the chart the Radiohead album is out of the Top 10.)