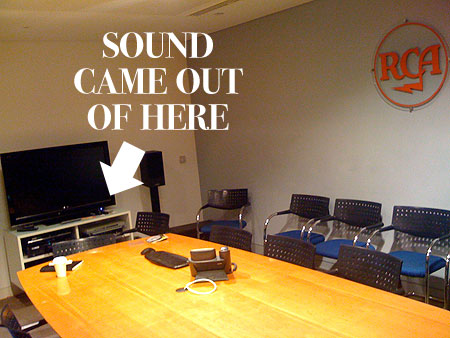 There's no easy way to break this to you readers but we went to RCA yesterday and we heard an extraordin­ary new Hoosiers song.
NO WAIT COME BACK.
It's called 'Choices' and it sounds a bit like a less 80s version of La Roux with warmer synths
and a bloke singing. It doesn't really sound anything like The Hoosiers
at all — it's more like the sort of song you'd pick to launch an electro boyband but it's a good grown up pop song at the same time. The chorus is a chant of "stop giving me choices, stop giving me choices" and as a whole the song's really exciting and euphoric and next-year-sounding, with big melodies pinning the whole thing down.
Basically, do you remember the annoy­ingly catchy bits of the first Hoosiers album? Right, well imagine those song­writ­ing skillz used for GOOD instead of EVIL. That is what 'Choices' is like. It's actually, object­ively brilliant, and to these ears sounds like the first unex­pec­tedly amazing comeback single of 2010*.
We appre­ci­ate this news, that The Hoosiers have recorded at least one song that doesn't make you want to throttle someone, might upset some fans of depress­ingly bad guitar music but, on the bright side, Scouting For Girls have a new album out in 2010 and we bet that's a real stinker so fingers crossed for that one, right?
* It might not be the first single but it should be**.
** Unless their other new songs are better but that seems rather unlikely as this is, at the end of the day, still The Hoosiers we're talking about.