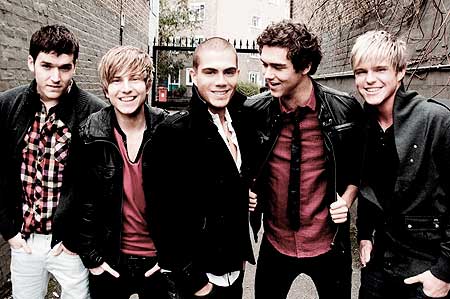 Rather unex­pec­tedly Avenue, the boyband launched last year in a flurry of "what the world needs now is a boyband" publicity and whose debut single limped to Number 50, have a second single coming out through an inde­pend­ent label set up by their management.
The single is not 'Risk It All', which from what we heard last year was the only Avenue song that posed any danger of taking the band into the Top 20. It's 'Can You Feel It', which isn't a cover of 'Can You Feel it' but sounds a bit like 'Can You Feel It' anyway.
We were con­sid­er­ing making 'Can You Feel It' a Popjustice Song Of The Day for a couple of reasons — firstly we like the band, and secondly it struck us as being quite a good song. Then, when we were trying to find a thirty second clip to accompany the Song Of The Day writeup, we couldn't find thirty seconds which didn't contain something rubbish.
It's one of those songs which creates the impres­sion of being good but just doesn't stand up to any scrutiny. It doesn't work struc­tur­ally (the middle eight is like 'Godot! The Musical' and the final 14 seconds are frankly bizarre), it doesn't work sonically (it falls somewhere between 'Biology' and something from 'Britannia High' but isn't strong enough to be the former or cheesy enough to be the latter) and it doesn't work lyrically — the more you listen to it the more you realise 'Can You Feel It' is a total 9/11 of pop lyricism. Lyrical high (/low) points include "hey pretty baby won't you tell me your name", "you look so good", "burning up on the floor", "get up everybody sing", "let's go make some noise, all the girls and all the boys" and "1, 2, 3, 4 get up on the floor".
It's a shame really — the boys them­selves have kept their side of the bargain by being a good boyband, but everything around them has just turned out to be a bit shit.