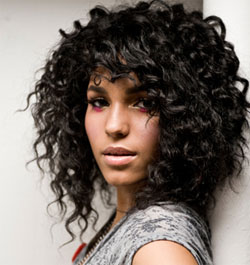 We've been meaning to mention new warbler Vita Chambers (HERE SHE IS ON MYSPACE) for a few weeks now.
She's from Barbados and her 'team' were also behind Rihanna. So basically she's the new Shontelle.
"We want to target fans of artists like Kelly Clarkson and Ashley Tisdale" writes her publicist — these seem like rather low expect­a­tions par­tic­u­larly as 2009's most mag­ni­ficntly overblown biog resides on Vita's MySpace page.
In our time,
it begins,
don't you find that the most exciting events, per­son­al­it­ies and talents are the ones that prove we've all grown past our bound­ar­ies and borders and categories?
Age? Just a number, in sports, music, cinema, even business, sometimes. Nationality? Who doesn't dream of being a citizen of the world? Musical genres? Good music is good music, old or new. Race? The. Most. Yesterday. category of them all.
Vita, the 15-year-old singer from Barbados, is living proof, in her personal history and in her music, that the future of pop is going to unfold in a world without bound­ar­ies and limitations.
Translation: she's got some alright pop tunes. And she does have some alright pop tunes. She also has a really jaw-dropping one by the name of 'ADD', which is about a boyfriend with a short attention span.
"What'll it take just to keep you focused
What can I do just to make you notice
I think I agree with the diagnosis
You're so ADD it's killing me"
!
"Don't you know you can have it all
If you just take your Adderall
You're so distracted
Why am I so protracted"
We have not made this up.
You can listen to the whole track on her MySpace along with a pretty good tune called 'Like Boom'. In the meantime here's the video for her Gaga Starship ripoff (but also quite good) single 'Young Money', which is out now in America.
httpv://www.youtube.com/watch?v=biH1yFJAFdw

Enjoyable.