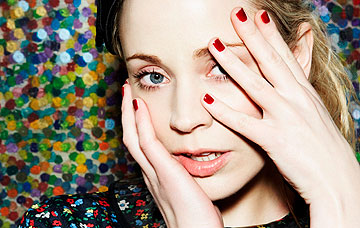 Here is the news: Annie's new album, 'Don't Stop', is a complete modern mas­ter­piece and you are going to love it. Most of it was recorded in the last twelve months with new recruits Xenomania joining estab­lished col­lab­or­at­ors Timo and Richard X, and the result is a mix of styles which won't scare Annie's existing fans but might actually give her some proper hit singles.
One of the future singles — probably the next one, after 'Girlfriend' — is going to be 'My Love Is Better'. It's unmis­take­ably a Xenomania track — similar in feel to 'Long Hot Summer' or 'You Freak Me Out' — which features guitar work from Alex Kapranos. Its chorus is a call and response session with Girls Aloud along the lines of:
Annie: My love is better
Girls Aloud: Than your love
Annie: My lips are wetter
Girls Aloud: Than your lips
And so on. One of the best songs on the album is another Xenomania track called 'Sweet' which has all the hallmarks of a sum­mer­time airplay smash. Along with the single 'Girlfriend', Richard X has also worked with Annie
on the incen­di­ary dance­floor anthem 'Songs Remind Me Of You', which was
ori­gin­ally demoed A MILLION YEARS AGO — so long ago, in fact, that it
was first played in a nitespot envir­on­ment at the Popjustice Christmas
party in 2005. 'Loco' is a sort of Blondie-esque belter whose chorus trills "you're so loco, everybody says that you're a no-go" — a lyric which is probably the only misfire on the whole album. Elsewhere, 'Heaven & Hell' is a jaunty summery number which sounds a bit like
Saint Etienne and contains one of our favourite lines from the album:
"tell me, tell me what did I do wrong? Oh baby, I'm perfect".
Fans of cliche will appre­ci­ate the fact that this is (ahem) 'very much an album of two halves', and the flipside to the upbeat element is a series of atmo­spheric, clever and adven­tur­ous songs which give the album a really exciting edge. Annie describes 'When The Night' as her first power ballad, while 'Marie Cherie' is a song about a girl who, after being abused by her father, kills herself, and nobody notices she's gone… There's also a gothic 'n' ghostly elec­trobal­lad called 'Take U Home',
while 'Misery', featuring Frederik from Datarock, sounds like Sigue
Sigue Sputnik with a massive chorus of "it's been a long time since
you've been in my head … I wish that you were dead".
When we had a chat with Annie a few months ago she wrote us a track­list­ing which is obvously 'subject to change', as these things always are, but this is how it looked.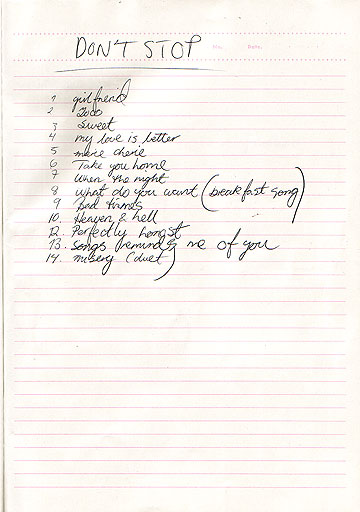 There's some wild and crazy bracket scrib­bling going on there, isn't there.
Anyway, 'Don't Stop' is an album which somehow manages to cover pretty much everything we love about pop music, and we've got a feeling it's going to tick quite a few of your own boxes, too.