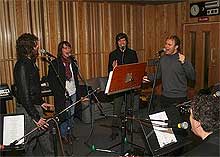 Life's a bit short to go all 'OMG!111!' every time some loser covers another loser's songs on the Jo Whiley so-called Live Lounge but Take That doing Kaiser Chiefs yesterday was fairly listen­able.
"You've got to feel it," noted Mark Owen, "haven't you."
Well yes.
Click here and skip forward to the 2hrs15 mark to have a listen.
Also, we are going to see Take That do a 'thing' tonight at Abbey Road. We will let you know about that tomorrow.