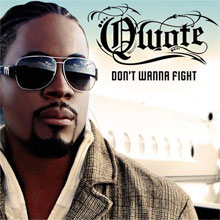 Air Supply's 'All Out Of Love': a solid gold Magic FM blubathon right up there with 'If You Leave Me Now' and, er, various others.
The song has now been given a dodgy 2008 R&B 'spin' by an artist calling himself Qwote (perhaps that should be "Qwote", HA HA HA), who changes "I'm all out of love, I'm so lost without you, I know you were right believing for so long" to "I don't wanna fight, and don't wanna fuss girl, tonight I just wanna make, make love girl".
Terrible and brilliant at the same time and with Trina doing a rap, therefore pop genius.
Here is the video.
httpv://www.youtube.com/watch?v=qzXVGfpYM4U

How could this song get any better? Simple: add a bit of Shaggy for extra remix amazingness.
httpv://www.youtube.com/watch?v=LYIAmrrBNJM

Now you might well be asking now, "how could a song which is a dodgy R&B rerub of a Magic FM classic featuring Trina AND Shaggy get any better?". Well how about this: turn in a half-arsed but still quite good David Guetta vs The Egg-style dance remix!
httpv://www.youtube.com/watch?v=JriUCuL2b7M

It is a triple threat and 'no mistake'. Not sure when it's out in the UK, if at all, but Kiss 100 would play it and it's ring­tonet­acu­lar so pre­sum­ably it will be out at some point.
* Sounds like 'quote', artist's name is 'Qwote'. Do you see.