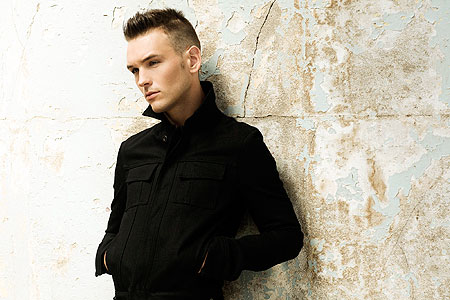 PRESTON OUT OF THE ORDINARY BOYS.
He is now literally 'out of' the Ordinary Boys in the sense that he has rein­ven­ted himself as a solo 'artiste' and despite the moody 'n' pensive pro­mo­tional pho­to­graph you see about 3cm above this piece of writing he has GONE VERY POP INDEED.
By 'very pop indeed' we mean…
1. He sounds like you think Frankmusik is supposed to sound, ie elegant 'n' stylised elec­tronic pop with some guitars here and there but with the emphasis on proper instru­ments like synths and drum machines. Apparently it is the result of Preston pissing off to Philadelphia in the wake of the Ordinary Boys split (it was a difficult time for all of us) then spending six months throwing himself into a kind of personal and pro­fes­sional rein­ven­tion [insert standard waffle re solo artists 'finding them­selves here] the result of which — from the five tracks we've heard — is very inter­est­ing and quite exper­i­mental but also REALLY VERY GOOD.
2. The first single is called 'Dressed To Kill' and it's a stylish, 125bpm, dance­floor-friendly pop single. It comes with a sample from the intro to THIS (this clearly remains the defin­it­ive version of the riff in question) although the sample's probably the least inter­est­ing thing about the song. The song's got a massive, swirling chorus — "you're dressed to kill and you know that you will, you're dancing in the dark with your hands around my heart" is a great slice of disco melodrama.
3. There are some other good lyrical bits and bobs, for example in 'Heart Of Gold', which throws up cute lines like "you've got a heart of gold — it's hard and cold" as well as amazingly over­wrought moments like "if I could turn my tears to pearls and string them up on my regret you'd surely love me". There's another good moment on big singalong elec­trobal­lad 'Coming Apart Again': "this speeding train of thought, it won't go
where I want it to, I'm hanging on a thread, I'm coming apart again". Perhaps you need to exper­i­ence that in the context of a pop song rather than written down on a website.
Also, as you can see in the pho­to­graph above, Preston no longer looks like the tramp who came last in a fight over the last sausage roll in the bins round the back of Gregg's, so that's 'a bonus'.