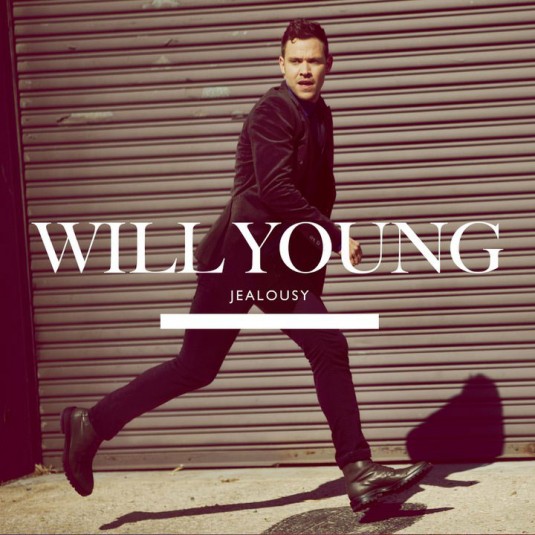 Last night in London, Will Young's 'Jealousy' became the tenth recipient of the Popjustice Twenty Quid Music Prize.
Judging was a long, booze-strewn and sometimes 'high-spirited' process. Here's what happened.
Round One: Instant elimination
As is 'customary', the first round involved selecting one song from the shortlist to be unce­re­mo­ni­ously booted out of the contest. The judges iden­ti­fied Siobhan Dillon's 'Powerless' as an early target, although the Lawson single was also mentioned. In the end 'Powerless' got the boot.
Round Two: Rudimental's 'Feel The Love' vs Nero's 'Promises'
For this and all sub­sequent rounds, songs were randomly selected from a pint glass. By coin­cid­ence, 'Feel The Love' and 'Promises' are com­par­able songs in a 'semi-faceless Radio 1‑friendly mainstream/underground dance' sort of way. Our sug­ges­tion that Nero's 'Promises' is the amazing Leona Lewis comeback single Leona Lewis never made fell on deaf ears, chiefly because it literally was never made, and Nero went out. 'Feel The Love' went back into the pint glass and we continued.
Round Three: The Saturdays' 'All Fired Up' vs Little Mix's 'Wings'
Again, purely by coin­cid­ence, the two big girlband singles were selected next. Two of the writers behind 'All Fired Up' were in attend­ance, although one of them also co-wrote 'Wings' which evened things up a bit. At one point it was observed that 'Wings' was better because Little Mix have a 'co-writing' credit on it, which didn't go down well in the room. Lyrically the songs dwelled on two fairly played-out topics ("this disco dancing business is quite fun" and "boo hoo they called me ugly" respect­ively) but it was noted that both songs had strong sonic iden­tit­ies. Things got a bit heated at one point but nobody was injured. We reckon 'Wings' would have gone further in the contest if it had been up against a different song, but it went out in this round, and 'All Fired Up' went back in the pint glass.
Round Four: The Saturdays' 'All Fired Up' vs Lawson's 'Taking Over Me'
There wasn't a huge amount of debate here. It was noted that in terms of each song's first ten seconds 'Taking Over Me' made a bigger impact than 'All Fired Up', but a show of hands ensured that Lawson went out in this round.
Round Five: Rudimental's 'Feel The Love' vs Olly Murs' 'Heart Skips A Beat'
It was broadly agreed that 'Heart Skips A Beat' was such a belting tune that it didn't matter that the hat-wearing loon on warbling duties was Olly Murs, and Rudimental's song went out.
Round Six: Saint Etienne's 'Tonight' vs Olly Murs' 'Heart Skips A Beat'
For this round, the five (random) members of the judging panel who had balloons in their welcome packs were called to the front of the room. While holding inflated balloons they were asked to tell the room which song should go through. Two votes for Saint Etienne were followed by two votes for Olly Murs, leaving the Louis Walsh of the evening to decide that Saint Etienne should go through.
Round Seven: Rizzle Kicks' 'Down With The Trumpets' vs One Direction's 'What Makes You Beautiful'
There was some chat about whether or not One Direction's message of hope to des­pond­ent teens was escapist genius or disin­genu­ous rubbish, followed by the assertion that Rizzle Kicks probably would shag you, followed by the point that One Direction actually didn't seem too picky either. When one person said she couldn't remember how 'What Makes You Beautiful' went, another judge jumped on a piano and banged out a version of the song, prompting a mass singalong. Getting the debate back on track, the main argument here seemed to be that the Rizzle Kicks single was quite relaxed and the One Direction single was quite keen to please, which we suppose fits in pretty well with the respect­ive artistes' broader 'nar­rat­ives'. In the end, One Direction went through to the next round.
Round Eight: Saint Etienne's 'Tonight' vs The Saturdays' 'All Fired Up'
Smokers in the room were invited to choose between these songs in the time it took to smoke a fag. The result — that Saint Etienne's 'Tonight' should go through — was not hugely popular with the rest of the room, but you can't argue with democracy.
Round Nine: One Direction's 'What Makes You Beautiful' vs Saint Etienne's 'Tonight'
After an impress­ive run — and a spirited speech from one Saint Etienne fan — it was time for 'Tonight' to go.
Round Ten: Will Young's 'Jealousy' vs One Direction's 'What Makes You Beautiful'
After staying in the pint glass for most of the night, it was finally time for Will Young's 'Jealousy' to face the judges. As soon as people started talking about the song it was clear that — even with another round to go — we'd found our winner. One person noted that if we were looking for a male version of 'Call The Shots', this was it. Another made the point that this was the moment when Will Young picked up the Pet Shop Boys' legacy and ran with it. By this point the song's producer, Richard X, had joined the judges, and he made a warm, per­suas­ive and poignant argument for 'Jealousy' to stay in. One Direction went out.
Round Eleven: Will Young's 'Jealousy' vs Marina & The Diamonds' 'Power & Control'
One of the stranger aspects of the songs-in-a-pint-glass nature of the Twenty Quid Music Prize judging is that some songs escape scrutiny until the very final stages. And so it was the Marina's 'Power & Control' made it through to the 'final' simply by keeping its head down for the entire night. It felt like 'Jealousy' had already won, really, but the judges went through each song's pros and cons and listed them on the wall. We forgot to take a picture of these but @gemtriesharder got a snap of the Will Young pros and cons: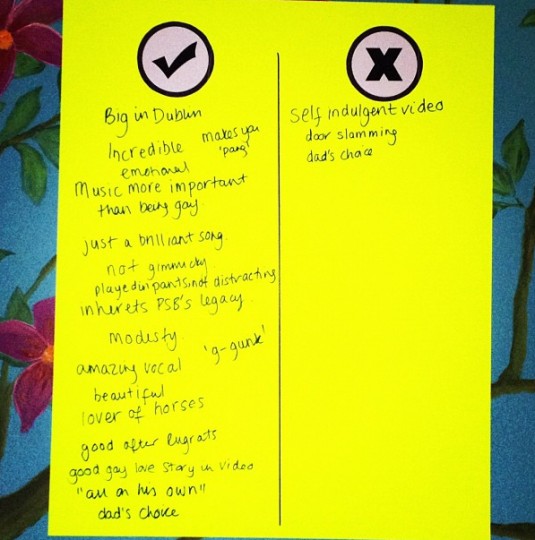 It was suggested that Marina's 'Primadonna' might have fared better than 'Power & Control', but even 'Primadonna' would have had trouble competing with the over­whelm­ing, quite touching pos­it­iv­ity the judges were showing for 'Jealousy'.
Anyway, 'Jealousy' won by a landslide.
Let's be fair, it's a pretty good song, right? Right. Richard X kindly accepted the twenty quid (cash) prize on Will's behalf.
Here (right) is a shoddy picture (via @harrietnoble) of Richard col­lect­ing the award.
Thanks to everyone who came along and helped judge the prize last night, and we hope your hangovers aren't too bad this morning.
Obviously the whole Twenty Quid thing only started off as a bit of a stupid pisstake of the Mercury prize but each year, when judging night comes around, it's hard not to be moved and invig­or­ated by the passion, humour and energy with which people approach the pop single: the greatest art form in the history of everything.