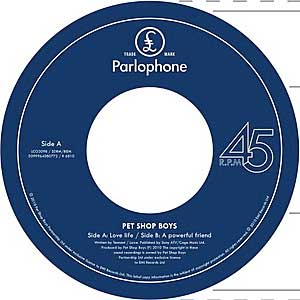 Record Store Day is on Saturday. It's a day for people to celebrate (trans­la­tion: visit and be happy to pay more than they might online or in a super­mar­ket for music in) whichever inde­pend­ent music shops still exist. It's all quite happily old fashioned but its heart's in the right place and a number of EMI artists are releasing special singles on the day.

Pet Shop Boys' release will be a 7" featuring 'Love Life' (a song they gave to Alcazar) and a 2002 recording of 'A Powerful Friend', pre­vi­ously only heard as part of Chris and Neil's John Peel Session.

The release is limited to 1000 copies and will be available only in par­ti­cip­at­ing stores.

Here's Alcazar per­form­ing 'Love Life' not terribly well (and with a definite hint of Starman).

[youtube]FM9jhLB1Vkg[/youtube] "Good sense humour, non-smoking, non-scene." Amazing.