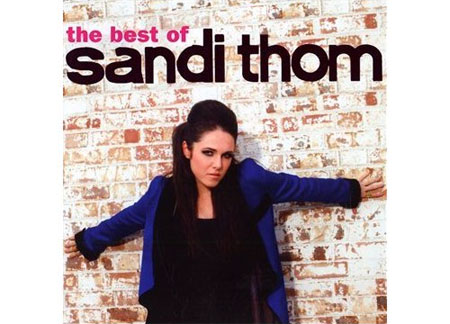 There has been a lot of talk regarding Whitney Houston's new album — playbacks on both sides of the Atlantic, Clive Davis bigging the whole thing up, lavish booze-ups for the media and so on — so it's odd that one of 2009's other key releases has somehow slipped under the radar. Released today with little fanfare, 'The Best Of Sandi Thom' is an eighteen track col­lec­tion of the singer songwriter's most popular tunes.
Now, we know what you're thinking. "EIGHTEEN TRACKS? How on earth did they cut down the track­list­ing?" Well it must have been hard keeping the running order to one CD, but they see to have managed it without missing out too many of Sandi's numerous signature hits.
1. I Wish I Was A Punk Rocker (With Flowers In My Hair) (Radio Mix)
2. What If I'm Right (Radio Mix)
3. The Devil's Beat
4. Little Remedy
5. Saturday Night
6. When Horsepower Meant What It Said
7. The Last Picturehouse
8. The Human Jukebox
9. The Pink And The Lily
10. Sunset Borderline
11. My Ungrateful Heart
12. Lonely Girl (Live From The Basement)
13. Kiss From A Rose (Acoustic)
14. It Must Be Love (Acoustic)
15. May You Never
16. Times Like These (Acoustic)
17. No More Heroes
18. I Wish I Was A Punk Rocker (With Flowers In My Hair) (Mutiny's Rockers And Lovers Mix)
Interesting that they went for the 'Radio Mix' of 'What If I'm Right' — many Sandi experts would argue that this is in fact the inferior version.
While perhaps not an item to please every Sandi Thom collector, this is certainly a good overview of her back catalogue, and an access­ible 'entry point' for the casual listener. It just seems odd that this has been released in July when one would have thought that 'The Best Of Sandi Thom' might have been a strong contender in the Christmas market.