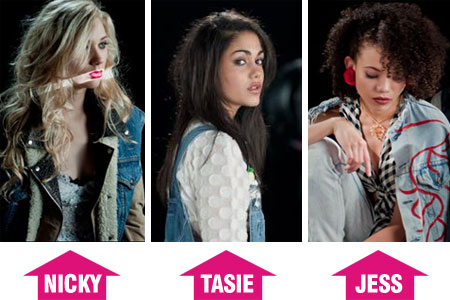 That is who the WooWoos are.
Their album's out through Island next year but the setup single is coming through Moshi Moshi next month. People who have worked on the single include Cameron McVey
(All Saints! Sugababes!! Massive Attack!!! Neneh Cherry!!!! Siobhan
Donaghy!!!!!), Paul Simm (various triumphs) and
Ruadhri Cushnan (Sugababes and a
variety of mainly boring acts but don't let that put you off).
After Girlscantcatchgate we're reluctant to trumpet them as your next favourite girlband, but we're pretty confident that the evidence speaks for itself with this lot.
EXHIBIT A: That first single, 'Fizzy Lettuce'. A Popjustice Song Of The Day last week; it sounds like this.
Let's be abso­lutely clear on this viewers, that is a very good song indeed.
EXHIBITS B and C: We've heard two more tunes — after the low-slung but not exactly chart­both­er­ingly-motivated bril­liance of 'Fizzy Lettuce' there's 'Lotto', which is just as non-obvious but a bit more you-might-hear-this-on-the-radi­oesque, and sounds like All Saints banging pots and pans. There's also a song called 'American' which is a bit of a wobbly-bassed romp that includes ref­er­ences to Michael Jackson, Jay‑Z and the singer Elvis Presley; not really single material but the sort of song you very much want to find as Track 4 on an album.
EXHIBIT D: Their answers to some questions we sent them — 'an interview', if you will.
There's a lot of potential here, would you not agree? ("We agree very much as it happens thanks for asking" — Anyone With Ears And/Or Eyes)