Last night we went to the Brits and got drunk. Here are some crap photos we took.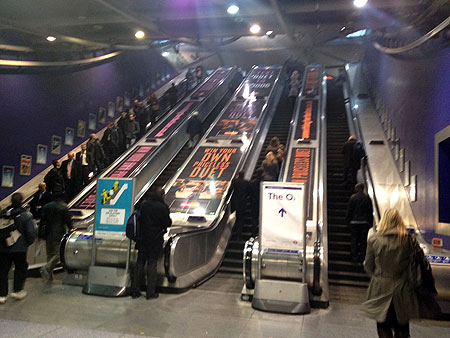 These are the escal­at­ors at the tube station. As you can see Mastercard's 'duets' themed spon­sor­ship is all over the place.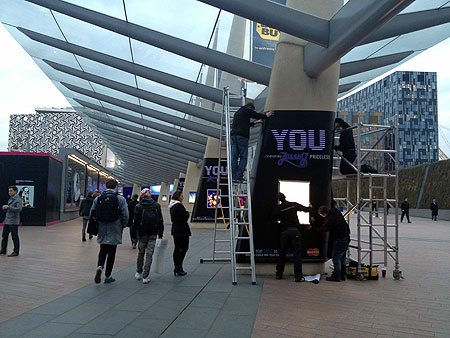 People were still putting up more Mastercard stuff when we arrived, which made the walk from the tube to the O2 feel quite exciting. Here they are putting up some Jessie J‑themed duet bits. No mention anywhere in ANY of this of the phrase 'Duet Like A Dude'. 0/10 try harder next year please Mastercard etc etc.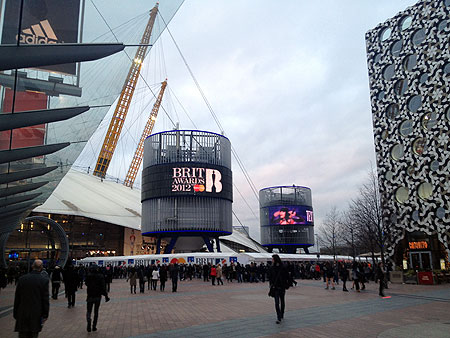 A picture of a thing.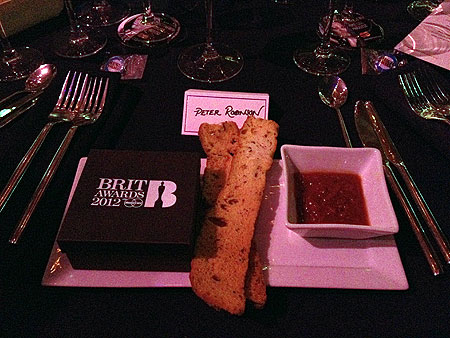 Here is what we found on the table when we got there. There was food in the box. The table contained booze as well but pho­to­graph­ing alcohol is terribly vulgar and we're going for a highbrow journ­al­ism vibe here.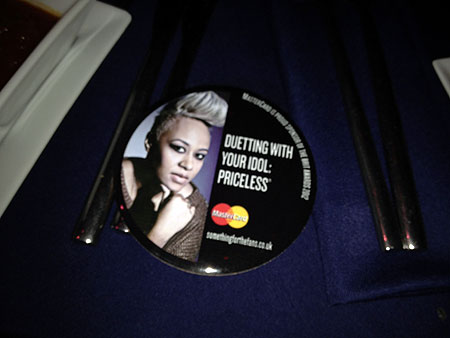 There were amazing drinks coasters every­where. We thought they were limited to Emeli Sandé and Jessie J but on our way out we found Labrinth and JLS ones too. We got ten in total and they fit perfectly in that box our starter came in. One lucky person will be reveiving this exciting Brits coaster gift set at Christmas.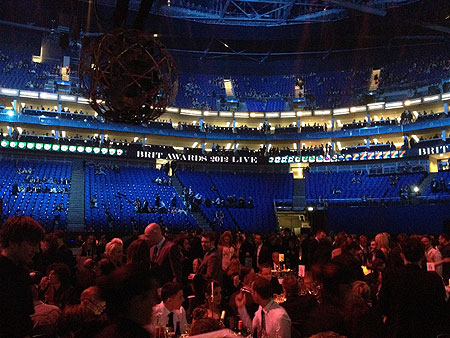 Picture of room. We like the way it goes from blue to red.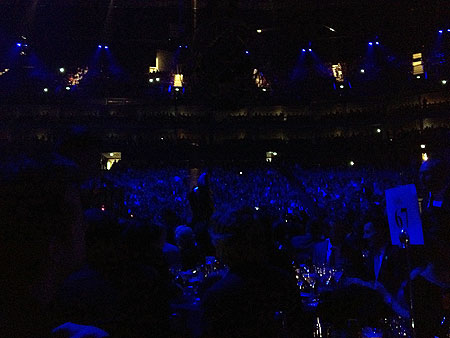 We're a few drinks in at this point.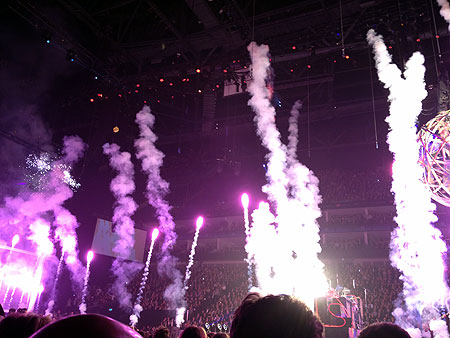 This was really really amazing, mind you if you're going to do indoor fireworks you should have at least one of those black ones that looks like a cat poo.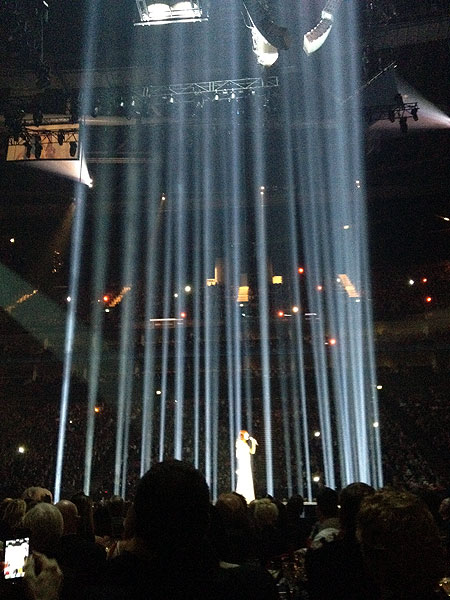 Florence shouting. Sadly this was not a real 'laser cage of doom' and she was allowed out shortly after this pho­to­graph was taken.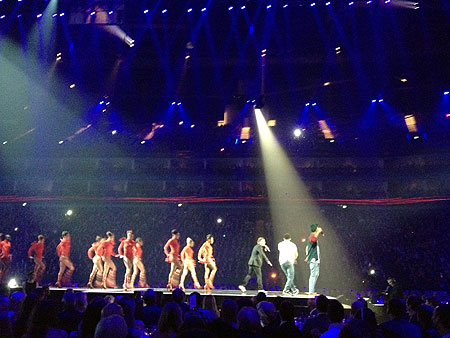 Olly Murs and Rizzle Kicks. We bet Olly banged one of those birds after­wards, right lads?!?!?! We mean did you see him look at one of their arses during the per­form­ance? HE LOVES WOMEN!!! THERE'S NOTHING WRONG WITH THAT HE'S YOUNG!!!!!!!!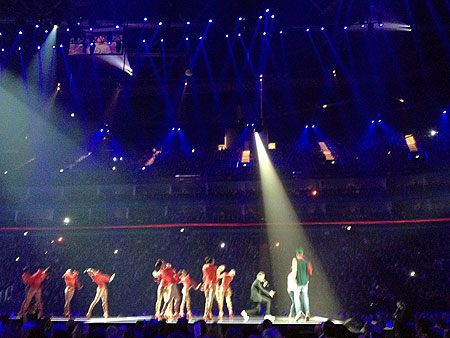 THAT'S THE ONLY TIME YOU'LL SEE OLLY MURS DOWN ON ONE KNEE HE'S NOT READY TO GET MARRIED YET HE'S JUST ENJOYING BEING SINGLE KNOW WHAT WE MEAN????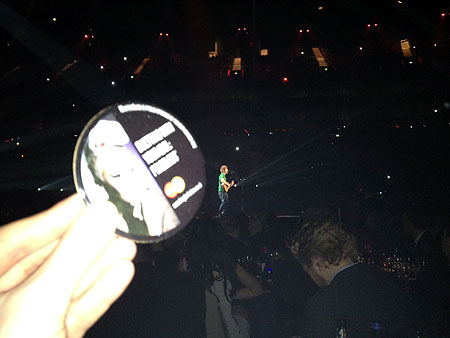 While Olly Murs was loitering near our table before the awards started it did cross our minds that if we picked up a wine bottle by the neck and smashed him around the head with the base of it, we'd probably do enough damage to derail his appear­ance on the show and therefore the whole event. We didn't do that. Why would we? He hasn't done anything to harm us. We did also consider fris­bee­ing an Emeli Sandé drinks coaster at Ed Sheeran's head during his per­form­ance. We didn't do that either. We basically say things to sound clever then don't go through with them. We think it makes us look cool. We think people are impressed. But they're not. We need to remember that.
It's inter­est­ing isn't it how, after per­form­ing in 'normal' clothes, Ed Sheeran got changed into a suit to collect his award later in the night. It makes you wonder which set of clothes is the costume. In the sense that Ed Sheeran's dressed down look is just as important a part of his whole 'thing' as a pork corset is to Lady Gaga.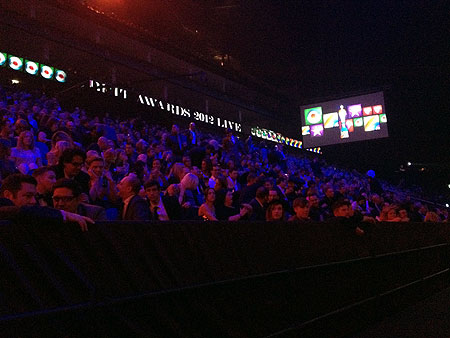 These people were behind us. They seemed to be having a pretty good time. At one point loads of girls were screaming "LIAM!!!" at Liam from One Direction. He heard them, looked over, smiled briefly then went back to chatting to whoever it was he was with. It did strike us that it might not have taken too much effort for Liam to pull himself away from his dis­cus­sion, wander over to the barrier and have a short chat with his fans. This happened during an ad break so there would have been a natural cut-off point when he could have gone back to his seat without looking rude. Maybe we're being a bit harsh and he's just not allowed to do things like that because of fears over stam­ped­ing and that sort of thing.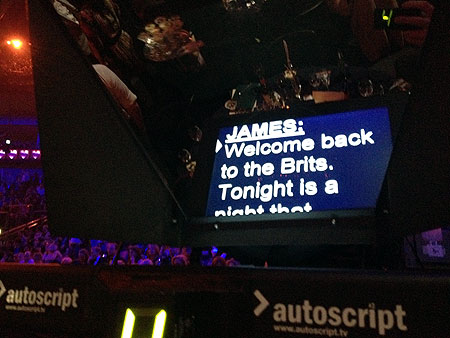 James Corden's autocue. We thought he did a good job of present­ing last night — pas­sion­ate in the right bits, naturally funny in the right bits, a big enough per­son­al­ity for the job but not so big that it dominated. It would be good if he did it next year.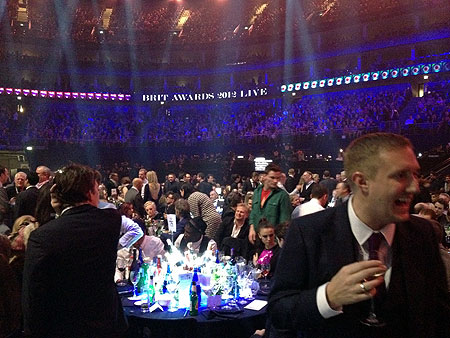 Showbiz writer Dean 'Pipo' Piper very nearly getting in the way of Cher Lloyd. Cher's hair looked nice.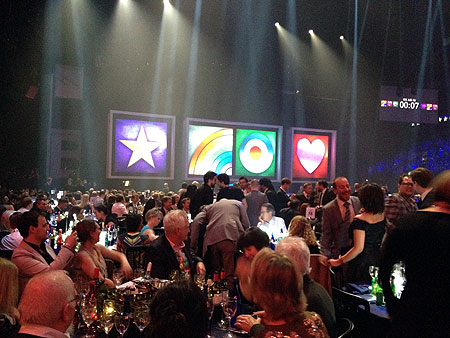 Pointless photo. That looks like Alan Carr on the right hand side. It's probably Alan Carr.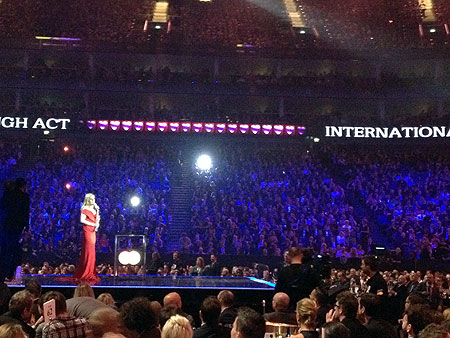 Lana Del Rey. We prefer her earlier awards appear­ances.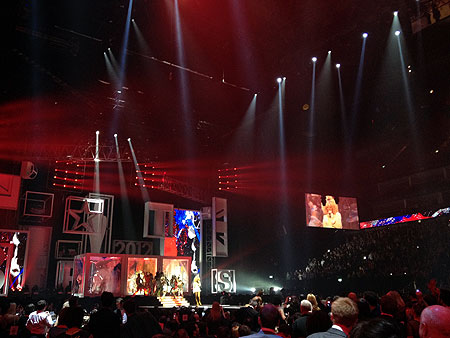 Rihanna.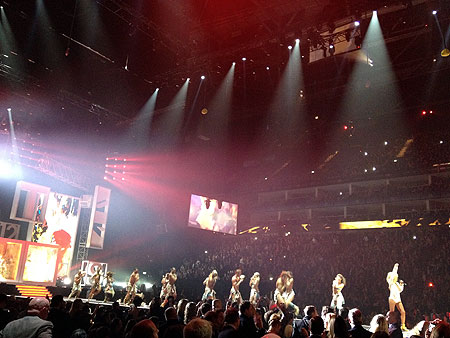 Rihanna.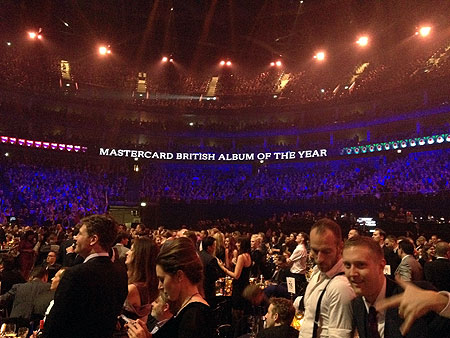 Dean Piper getting in the way of a photo of not very much.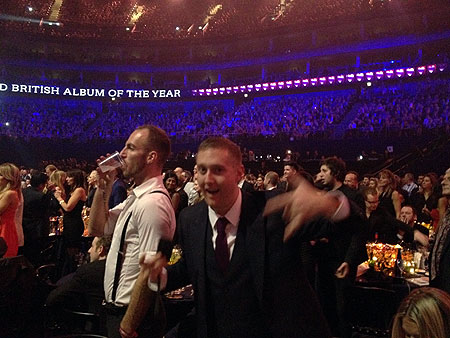 And again.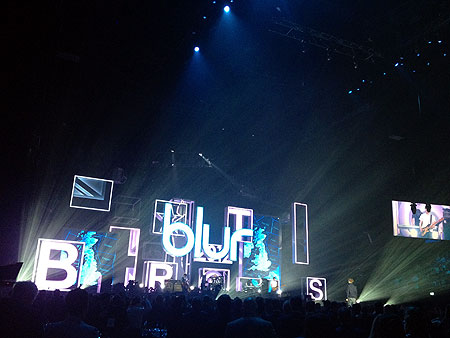 Blur were pretty good but we could have done without Phil Daniels.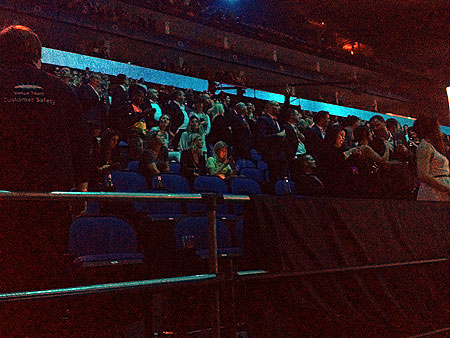 People behind us started fucking off during Blur.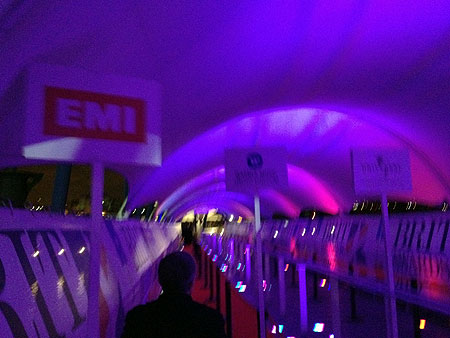 After a bit of milling around we went to catch a boat up the Thames. We suppose this point of the evening — when one chooses whether to get on the EMI boat, the Warners boat or the Universal boat — is a bit like the situation facing an unsigned artist. Well there would need to be a Sony boat as well for this to make sense but you get the idea. Actually signing to a label isn't really very much like getting on a boat at all, is it? Maybe the music industry should be more boat-based. Each label should have a boat. Label takeovers will be done in proper swash­buck­ling pirate fashion, with Universal employees swinging onto the EMI boat on ropes and so on. Instead of being dropped, acts will be forced to walk the plank. Can someone get this sorted out by next year's Brits please, thanks.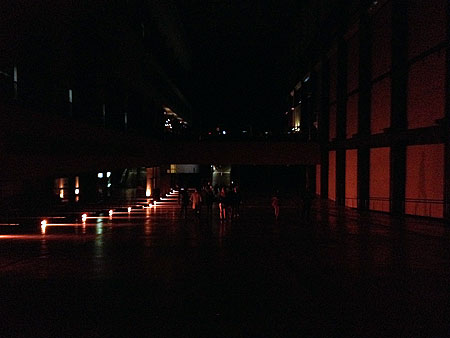 We went to the Universal party which was being held at the Tate Modern. It would be hard for any pissup held in such an amazing building to be not amazing, and this pissup was not not amazing.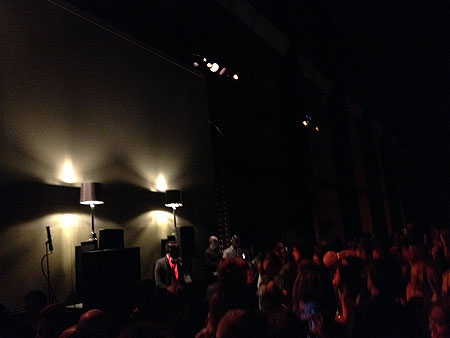 Here's will.i.am DJing.
We'll be honest viewers, we were off our faces by this point so after saying something we can't remember to Pixie Lott and being amazing by the scale of Louis Walsh's current haircut we went home, and took one more picture on the way out.

Sorry, we had to cut off that photo halfway through.