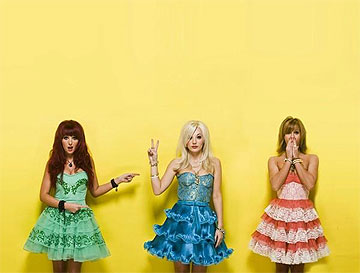 We featured Stonefoxx, a newish three-piece pop group with a bor­der­line terrible name, as Song Of The Day yesterday, with a song written by Shaznay Lewis (!), Biff Stannard (!!), and Georgie Dennis (!!!). It's good. This is it.

[audio:crystalclear.mp3]

We wanted to write about them again on the front page because we wanted an excuse to use this quite nice yellow picture of the band, but also because if you liked Monrose's 'Hot Summer' when we featured it last year ('Timbaland producing Girls Aloud', we said, slightly ridicu­lously) you may consider it 'of note' that the band have turned in a fairly decent cover. You can listen to it on their MySpace, along with something they've done to M's 'Pop Muzik'. The MySpace is here. That will be all.