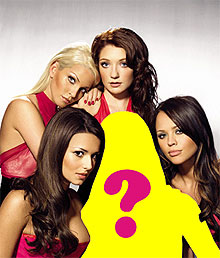 As you will know, Nadine Coyle did not attend last night's Brits with her Girls Aloud bandmates.
She was in America and said she had lost her passport. Other people say she just couldn't be bothered to attend, even though her band was up for its first Brit.
In some jobs missing such a high profile event, inten­tion­ally or otherwise, would be a sackable offence. So the question we would like you to consider is this: if Nadine could not be bothered to 'represent' at the Brits, and if that is in any way rep­res­ent­at­ive of her com­mit­ment to the band, does she deserve to stay in the group? Should she be allowed to hang around, bringing down the mood, until she decides it's time to leave on her own terms?
[Vote now closed]
If, however, you do believe that Nadine simply lost her passport, why
not buy her a nice bright pink passport holder? It would make it easier
to find next time. Amazon have a lovely one here. Make sure the delivery address is Nadine Coyle, c/o Fascination Records, 364–366 Kensington High Street, London W14 8NS, and she can pick it up if she ever comes back to the UK.