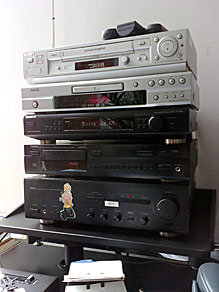 We've just been to the spooky SonyBMG Building Of Doom to listen to the Britney 'Blackout' album. Pictured is the stereo we listened to it on. Note the Pink sticker on the amplifier — never let it be said that record company employees do not have complete com­mit­ment to their artists.
Before we set off we were a bit 'can we really be bothered with this', con­sid­er­ing most of the tracks seem to have leaked. But we're glad we made the journey.

HERE IS THE NEWS:


The Britney album is really really incred­ible. It's modern sounding and bril­liantly produced but still abso­lutely pop. Most of the leaked tracks are different on the album, unheard tracks like 'Toy Soldier' are com­pletely brilliant and hearing the whole lot in proper CD quality is a really exciting exper­i­ence. It's a really clever album which sounds like a complete body of work and which sounds very 2008, with a subtle sense of humour and a really danceable edge throughout.
Cover art aside, this is the best album of Britney's career and one of the best pop albums of 2007. It's in the shops next week so will probably leak in the next few days. In the meantime here is the top secret compact disc we listened to earlier.
Ooh, a Hoosiers mousemat…
Oh and this is quite good too:
httpv://www.youtube.com/watch?v=ev6rK7tZi‑c

'The legendary Miss Britney Spears'. Amazing.