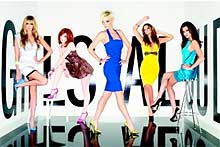 Girls Aloud, Xenomania and Pet Shop Boys are three of our favourite pop things so all three coming together in one song is a bit of a special Popjustice moment.
To recap:
»
Girls Aloud: Five girls, amazing, inspire Xenomania to make brilliant records.
»
Xenomania: Revolving group of X‑Men style pop alchem­ists, amazing, inspire Girls Aloud to make brilliant records.
»
Pet Shop Boys: Two gentlemen, amazing, inspired Xenomania (and most other people who make inter­est­ing pop music) to make brilliant records.
As we mentioned the other day 'The Loving Kind' fits alongside 'Call The Shots' and Kylie's 'The One' as a ballad-that's‑not: the lyrics have the sadness and mel­an­choly of a massive proper ballad but the pro­duc­tion drags the song straight to the dance­floor and lends it an undeni­able sense of optimism. It's proper crying at the dis­cotheque, tears in the toilets (© N Tennant) stuff.
On an album full of dancing robots and typically obtuse Xenomania pro­duc­tion it's a welcome shot of romance and warmth for 'Out Of Control'; it's a song about a couple falling apart, which tends to happen in any sort of rela­tion­ship at one point or another. It's just a very elegant, human song, and how's this for a snapshot of how the relent­less bustle of modern life drags lovers apart: "somewhere on a Monday morning, in a rush hour of another day, standing on a crowded platform, care­lessly we lost our way".
One of the great things about this is that it doesn't really sound like Girls Aloud singing a Pet Shop Boys song — it's more like two of the best song­writers IN POP HISTORY col­lab­or­at­ing with Xenomania to produce a song about human nature and love going tits up. There are some lyrical touches — phrases like "you may be dis­in­clined" and "the issue's never mentioned with all the best inten­tions" are Proper Tennant — but without going too X‑Factor about the whole thing there are some brilliant vocal touches (like the cute pro­nun­ci­ation of the first word, "sometimes" )which mean that the girls Really Make The Song Their Own.
"Wide awake and dreaming… Of yesterday." Amazing.
Seeing as you're here, we suppose we might as well let you have a listen to the song.
[audio:clipoflovingkind.mp3]
There you go.