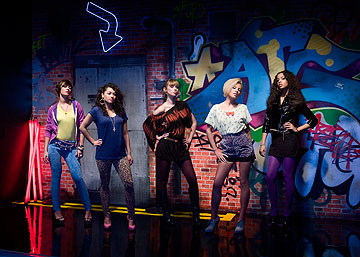 You might have seen some dodgy snapshots of The Saturdays knocking around online but here's the first proper (ie expensive) photo of the band. It was taken in a REAL alleyway.
Apart from the fact that a spooky super­nat­ural arrow seems to be singling out two of the band members — for what, we wonder? — what we like about this pho­to­graph is that it continues the grand girlband tradition of brilliant hands being placed on hips. We have long suspected that this is some sort of secret language employed by girlband members desperate to com­mu­nic­ate something to the outside world.
What, we wonder, is the sig­ni­fic­ance of one hand on a right hip? How about the left hip? What can we decipher from no hips, or both hips? It's like girlband semaphore, or the pop equi­val­ent of coded messages in hostage videos. One day, when we have some time, we will sit down and examine hundreds of girlband pho­to­graphs in an attempt to decode this strange language, and once we have cracked the code we will present our findings to you in the hope that humankind can under­stand something new at the very heart of pop.
Here are some pictures where you can see the girls' faces properly.
| | |
| --- | --- |
| | MONDAY! |
| | TUESDAY! |
| | WEDNESDAY! |
| | THIS 'DAYS OF THE WEEK' CONCEIT ISN'T WORKING! |
| | AT ALL! |
Here's a clip of the band's debut single, 'If This Is Love', which is out in July and is also today's Popjustice Song Of The Day.
[audio:saturdayslove.mp3]
The song is delib­er­ately or acci­dent­ally very clever — the intro­duc­tion, first verse and bridge, propped up by the Yazoo sample, are so under­whelm­ing that you find your attention drifting towards the clock as you wonder when the song will get going. And then, of course, when the chorus does hit you don't need to look at the time at all because you know exactly what time it is: GIRLBAND O'CLOCK.
It's going to be inter­est­ing to see how this one pans out. There will be immediate com­par­is­ons with Girls Aloud, but while Girls Aloud (and the Sugababes) only succeeded because their music crossed bound­ar­ies and appealed to people outside the core pop audience — both acts have succeeded in spite of being girlbands — The Saturdays' music recalls a very different era in which pop groups could sell records without having to attract anyone except pop fans.
What do pop fans want in 2008? Well, they've grown up with sonically adven­tur­ous songs from Sugababes and Girls Aloud, or bands like McFly, and they're buying everything from Robyn to The Hoosiers, so a band whose music is an extension of S Club 8 may sleep slightly at odds with the current pop landscape. But at the same time The Saturdays will also be chasing kids even younger: kids who've grown up with High School Music and Hannah Montana, and whose per­cep­tion of pop undoubtedly helped Alphabeat into the Top 10. So it might be a triumph. Watch this space etc.