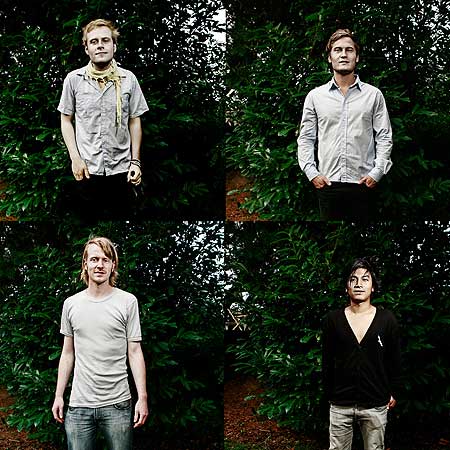 The people in this picture are a band called Cartridge. They're from Denmark. We're not sure if it would be possible, even by dicking around with spooky genetic exper­i­ments, to come up with four people who looked more likely to make music written about on 'blogs'. All that's missing is a bandana*.
Anyway their song 'The Woods' is today's Popjustice Song Of The Day. It's lightly deranged and heavily brilliant and includes the line "hoping that there must be more to life than life" which is, let's face it, really amazing.
Here's a clip of the track. It includes an instru­ment you don't usually expect to hear in pop songs.
[audio:thewooods.mp3]
We like this a lot and listened to it precisely six times on the way to work this morning.
* Incidentally MGMT would be about 50% better if they wore bananas instead of bandanas on their heads, and that is a solid gold pop fact.