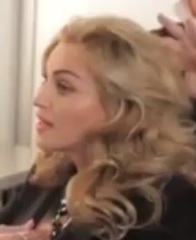 Nicki Minaj was very excited about kissing Madonna on the video shoot for 'Give Me All Your Love'. (NME) She 'took to Twitter' and pro­claimed "OH MY f'ingggg Gahhhh!!!!! MADONNA jus kissed me!!!!! On the lips!!!!!!! It felt sooooo good. Soooo soft!!!! *passes out* aaahhhhh!!!!!!!!!", which seems like a perfectly natural reaction.

Rihanna has been named the most talked-about artist on Facebook this year, with 'We Found Love' being the most listened-to song. (Capital FM)

Not to be undone, Adele has been named iTunes Artist Of The Year. (Huffington Post)

Here is a pho­to­graph of Joe Jonas with a large, inflat­able zebra. (Twitter)

'Cooler Than Me' chanteuse Cher Lloyd would probably wear trackie bottoms if she were to perform at the Brits next year. (Daily Star)

'Rain Over Me' hitmaker and notori­ously-picky-about-who-he-works-with-producer RedOne has been chatting about how nice it was when Lady Gaga's 'Just Dance' topped the Hot 100. (Billboard)

Florence Welch's "favourite mode of being" is when she has not slept. (Contactmusic)

Demi Lovato has 'done a Tulisa' and got a tattoo on her right arm, but it doesn't appear to be promoting a self-endorsed 'fragrance'. (Daily Mail)

And finally, don't expect Robbie Williams' next album to be a 'Rudebox Part 2': he's going to go back to the "guitar/piano/heart on my sleeve stuff". (Robbiewilliams.com) He also deemed Olly Murs a "bonafide proper popstar now…I'm sure me and him will be spending more time together at some point". Fantastic. Absolutely fantastic. No really well done everyone. WELL DONE EVERYONE.
THAT WAS some of THE NEWS.