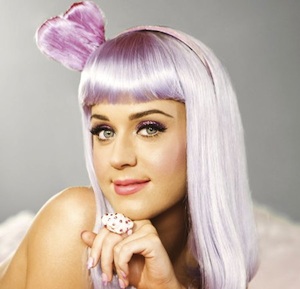 If you're inter­ested in watching cinema audiences duck as they think they are about to get hit in the face by cream being shot out of a popstar's bra, you're in luck: following in the footsteps of JLS and Justin Bieber, Katy Perry is doing a 3D film. It's called Katy Perry: Part Of Me and it will be released this summer. (Ace Showbiz)

Meanwhile, Lady Gaga is sup­posedly "furious" that a TV movie of her life called Fame Monster: The Lady Gaga Story is in the works, with a 'source' (hm…) saying she's worried it will portray her as insecure and needy. (NME)

'Never Gonna Leave This Bed' hitmaker Adam Levine will release his first 'fragrance', called 222, next year, with a spokesman revealing that "endeav­our­ing to capture [his charisma] in a bottle has thus far been very exciting". (Contactmusic) We can only imagine.

If you were toying with the idea of buying Britney Spears' LA mansion, you'll be relieved to hear it's back on the market at less than $3m. (Daily Mail)

The Jonas Brothers have offi­cially started work on their new album, and have taken an Andy Warhol 'inspired' photo montage to celebrate this momentous occasion. (MTV)

Robbie Williams will be captain of the England Soccer Aid team on May 27, with tickets now on sale. (Twitter) Good to see that Robbie's not letting anything distract him from recording that new album, isn't it.

'Rock With U (Awww Baby)' chanteuse Ashanti has released the artwork for her new album 'Braveheart', which shows her wearing very blue glittery lipstick. (That Grape Juice)

"Ear-splitting duo" Sleigh Bells did an 'authentic' live cover of Beyoncé's 'Irreplaceable' on Radio 1 yesterday, which was alright. (Billboard) But it's not as good as this version.

And finally, Rihanna has appar­ently started request­ing a (California) king-sized bed on video shoots so she can take naps inbetween takes, which sounds like a pretty good idea to us. (The Sun)
THAT WAS some of THE NEWS.