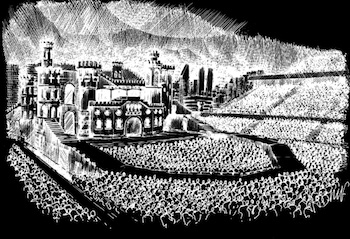 Lady Gaga has released an elaborate black and white 'artistic impres­sion' of what the stage for the Born This Way tour will look like. (Twitter) We would like a seat in one of the turrets please.

If you're a fan of dis­ap­point­ing sequels, you're in luck: the new Brandy and Monica song 'It All Belongs To Me' has been unleashed. (Rap-Up)

Madonna has announced her world tour dates, with tickets for her Hyde Park concert on July 17 going for sale this Friday. (Billboard) In post-Super Bowl news, the ratings went up by 3 million during her per­form­ance, giving the halftime show a fairly sub­stan­tial 114 million viewers. (ABS-CBN News)

Kelly Clarkson has been reflect­ing on her rousing per­form­ance at the Super Bowl, describ­ing it as "the longest minute and a half of my life ha!". (MTV)

Pop Zelig Cee Lo Green enjoys the fact that Rihanna is so "aggress­ive and sexually liberated". (Contactmusic) "It's hot to me", he adds. Thanks for that, Cee Lo.

Kylie Minogue has contacted the police over a "deluded weirdo" who has been stalking her on Twitter. (The Telegraph) Poor old Tom Gormer. :((

Beyoncé has been out and about for the world to see for the first time since Blue Ivy's birth last month, in order to watch Jay‑Z perform at the Carnegie Hall last night. (Daily Mail)

"Sometimes…it sounds really weird…but I don't believe I'm human." The words of Cher 'Close Encounters Of The Swag Kind' Lloyd, ladies and gentlemen. (The Sun)

And finally, The Wanted's assault of the US continues with the news that 'Glad You Came' is going to be covered on a future episode of Glee. (The Wanted Official) Incredible.
THAT WAS some of THE NEWS.