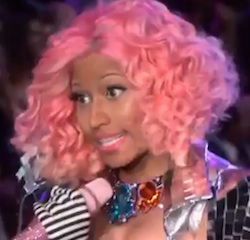 Some footage of Nicki Minaj, Maroon 5 and Jay‑Z and Kanye West per­form­ing at the Victoria Secret Fashion Show earlier this month has leaked. (AceShowbiz) Some of the models in Nicki's per­form­ance wear neon light butterfly wings, while one 'sports' a glit­ter­ball dress.

According to Bing, Justin Bieber has been the most searched for person online in 2011. (CBS News) No news, sadly, of a placing for Niall from One Direction.

Adele and The Big Issue have teamed up to release an exclusive free download. (bigissue.com) The song is a pre­vi­ously unre­leased live version of 'Hometown Glory' and it is available until December 4. Sounds fucking boring to us but 'hey ho'.

'The Best Thing About Me Is You' hitmaker Ricky Martin is 'appar­ently' set to appear in an episode of Glee next year. (TV Line)

Rizzle Kicks' new video for not-as-good-as-the-last-single-which-in-turn-wasn't‑as-good-as-the-one-before-that single 'Mama Do The Hump' is all fairly enjoyable until James Corden shows up. (YouTube)

Hanson – whose legacy was almost derailed by Janet Devlin on Saturday night — have created their own brand of beer. (Daily Express)

In news that will literally not mean a sausage to anyone outside his immediate family, Joey McIntyre of NKOTBSB will duet with his sister for a song on his much-anti­cip­ated ('not-anti­cip­ated-at-all') Christmas album. (Contactmusic)

Gamu Nhengu – the X Factor con­test­ant who never made the live shows last year and everyone got their knickers in a twist about – has offi­cially won her appeal to stay in the country. (The Sun)

And finally, One Direction have launched a highly elaborate attention-seeking com­pet­i­tion in the US to decide the city in which they will come and perform a "special event". (bring1dtous.com) Each city must complete a set of different 'chal­lenges' for their chance to be a very small part of a very big major label marketing campaign.
THAT WAS some of THE NEWS.