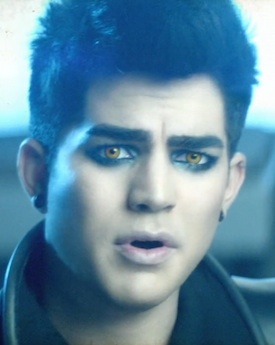 THE WAIT IS OVER: the video for Adam Lambert's 'Better Than I Know Myself', which sees a beige dressing-gowned Adam living next door to his irrit­at­ing leather-jacketed twin, has finally arrived. (Vevo) So raw, so brave.

Get your platform shoes out of storage, it's 1997 all over again: Geri Halliwell has found some old rope to exchange for money 'revamped' her Union Jack dress into an entire Next col­lec­tion, which will be available for the world to buy in March. (Daily Mirror)

Demi Lovato has had a photo shoot with Tyler Shield, who captures the 'inner Demi' by having her lick a lollipop and smash some glass. (Daily Mail)

Simon Cowell has offered 'Check On It' hitmaker Beyoncé $500 million to be a judge on the next season of US X Factor. (Herald Sun)

The first review of Lady Gaga's parents' res­taur­ant is not exactly glowing, with the starters "like leather" and pasta too "flaccid". (The Sun)

Meanwhile, Katy Perry has 'paid homage' (coin­cid­ent­ally ended up in a simlar scenerio to something out of) Lady Gaga's 'You And I', by dressing up as a mermaid for the latest GHD campaign. (Yahoo!)

Adele and Bruno Mars are up for some German Echo Awards, and Authentic Chanteuse Lana Del Rey is 'scheduled' to perform. (3 News)

And finally, Hasbro are launching a new Britney Spears dance-version of Twister, which will be promoted with a special 'Till The World Ends Remix'. (Sydney Morning Herald)
THAT WAS some of THE NEWS.