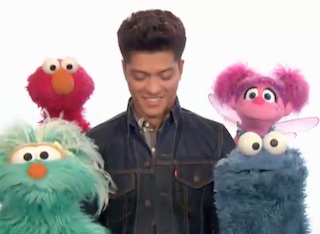 Here is a video of Bruno Mars singing on Sesame Street. (Sesamestreet.org) Bruno seems perfectly happy to watch his friends get hit by balls and fall over several times before helping them. What a monster.

Adam Lambert has been talking about what to expect from his second album, 'Trespassing'. (Rolling Stone) "There's party music, sex music, fucked-up-rela­tion­ship S&M music." Much like Matt Cardle's debut effort, then.

'Apparently' Tinie Tempah will be per­form­ing his "latest" ('ancient') single 'Pass Out' on US X Factor this week. (TVLine)

Emeli Sandé had a bit of trouble finding her way home last night. (Twitter)

Kelly Clarkson will be playing two dates at the 'hottest' venue in town – the Niagara Fallsview Casino — in March. (Niagara Falls Review)

'So Help Me Girl' hitmaker Gary Barlow would like Marcus Collins to duet with Stevie Wonder in the X Factor final. (Daily Mirror)

Deadmau5 would be happy to col­lab­or­ate with will.i.am, provided nobody ever found out. (Contactmusic)

Tennis-playing electro japester Martin Solveig is remaining fairly tight-lipped about his upcoming work with Madonna. (Boston Herald)

Big-voiced-but-she-doesn't‑like-to-show-off singer Jessie J came tra­gic­ally close to ending her music career earlier this year. (The Sun)

And finally, Lady Gaga has been inter­viewed for an upcoming issue of Vanity Fair, and they have released a brief extract. (Vanity Fair) She discusses how her ex-boy­friends often propose to her once the rela­tion­ship is over. "How fuckin' romantic, you asshole," she notes. "Sure, pop a ring on my finger and make it all better. I can buy myself a fuckin' ring." Yeah alright love calm down.
THAT WAS some of THE NEWS.