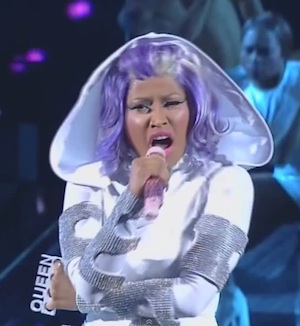 Nicki Minaj gave typically restrained per­form­ances of 'Starships' and 'Super Bass' at the NBA All-Star Game last night. (Billboard) Pitbull and his friends were also 'in attendance'.

Dappy has cri­ti­cised Olly Murs for his "horrific per­form­ance" at the Brits. (The Sun) He notes that Olly "came off The X Factor so he should be able to sing". Quite.

Katy Perry and Miley Cyrus both wore fairly nice dresses at 'Honky Cat' hitmaker Elton John's pre-Oscar bash. (Ace Showbiz)

In further 'popstars at the Oscars' news, Justin Bieber was on hand to help Billy Crystal for a 'skit' at the beginning of the show. (Idolator) Hilarious stuff.

Rebecca Ferguson has 'done a Florence Welch' and started covering Drake's 'Take Care' on her tour. (That Grape Juice)

Nicki Minaj, David Guetta, Tinie Tempah and The Human League are some of the less boring per­formers at this year's V Festival lineup, with tickets going on sale March 2. (V Festival Official)

Darius Danesh has been cast in a Beauty And The Beast US tele­vi­sion pilot. (MSN)

In 'first signs of getting older' news, Emeli Sandé is worried that she'll lose her Brit Award as she has a habit of mis­pla­cing things. (The List)

Dramatic rumours were cir­cu­lat­ing yesterday that Atomic Kitten would be reuniting for Eurovision. (MTV) But they've all sub­sequently 'taken to twitter' to deny it.

And finally, Sky Blu of LMFAO once got in an argument with Republican candidate Mitt Romney on a long plane journey. (Contactmusic) Imagine the horror of finding out you're stuck on a flight with one of the LMFAOs.
THAT WAS some of THE NEWS.