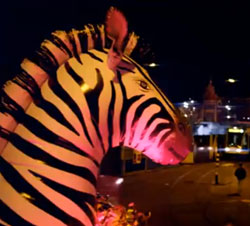 In other news, the Far East Movement track 'Live My Life' featuring Justin's vocals now has an entirely necessary Party Rock remix and video. (Ace Showbiz) WARNING: video includes Redfoo doing his singing and dancing 'thing'.

If you've got a spare £79 for Kylie Minogue's Anti-Tour UK dates, you can order your tickets from here although they've probably all gone now.

Jessie J talks about a lot of things in this article, such as how she wanted people to see a different side of her on The Voice and having "healthy debates" with 'The Young New Mexican Puppeteer' hitmaker Tom Jones. (The Sun)

Demure rapper Azealia Banks has 'done an Usher' and col­lab­or­ated with Diplo for her latest song 'Fuck Up The Fun'. (NME) It's 'quite something'.

The Daily Mail have been cri­ti­cising Madonna's bottom after her per­form­ance at the Bayfront Park festival in Miami on Saturday, stating in the headline that her "satin shorts squelch her derrière into an unflat­ter­ing sag". (Daily Mail) FUCK OFF THE DAILY MAIL.

Simon Cowell was under­stand­ably a little bit shocked when a lady broke into his house on Saturday armed with a brick. (Contactmusic)

In popstars and dogs news, a dachshund puppy named Beyoncé may be the smallest dog in the world, as it's currently "the size of an iPhone". (People Pets)

And finally, Gotye's rein of terror appears to be finally over, as Katy Perry's 'Part of Me' is the new Number One. (Official Charts) But Paul Weller's latest 'opus' has got to the top of the album chart, so it's not exactly safe to go outside.
THAT WAS some of THE NEWS.