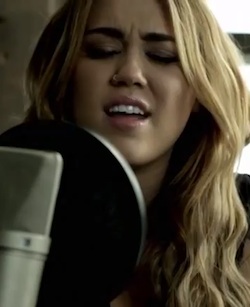 Miley Cyrus's Bob Dylan cover 'You're Gonna Make Me Lonesome When You Go' now has an entirely necessary video featuring 'Johnzo' West. (YouTube) It's no 'Party In The USA', let's be honest.

'That Tree' hitmaker Kid Cudi went a bit mad and trashed the stage at the Heatwave Music Festival in Australia when his set was cut short halfway. (Ace Showbiz) He later 'took' to his tumblr to defend his actions, stating "no matter the cir­cum­stance, cut my set short, im breaking shit."

Simon Cowell doesn't know whether Gary Barlow will return as a judge on The X Factor because of his busy work com­mit­ments. (Daily Mail) Whatever will we do without his fist pumps, the hilarious comments regarding Louis Walsh's sexuality, the attempts to appear good humoured while in fact being a little bit too com­pet­it­ive, and the con­test­ants being made to sing shit Bond songs?

The Actor Justin Timberlake is hoping to give golf a "nice injection of kick­assery" as part of his role as the Callaway Golf Company's Creative Director. (The Wall Street Journal) FORE!!!fucking yesars and seven months since your last single Justin you bastard, can't you just do a 'one off'?

If you've recently sent some shit demos about being in clubs and romancing the lovelies to Dr Luke but haven't heard back yet, don't panic: his phone has been broken for three days. (Twitter)

Selena Gomez is taking a break from the music scene after her South American tour. She will con­cen­trate on making some films. (Contactmusic)

Ke$ha is appar­ently working with The Flaming Lips on her new album. (PopCrush)

And finally, Madonna has her "fingers crossed" that W.E. gets some Oscar nods, but "if it doesn't, I've got the Super Bowl". (MTV)
THAT WAS some of THE NEWS.