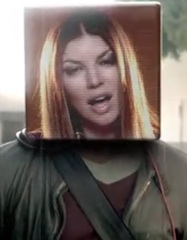 Cancel the therapy sessions: Black Eyed Peas insist they are not breaking up, just going on a break. (Billboard) The heart pounding com­bin­a­tion of Flo Rida, Sean Kingston and Marc Anthony will all be per­form­ing at the band's last pre-hiatus concert in Miami.

Kelly Rowland has demon­strated her intense ded­ic­a­tion to mentoring her three remaining X Factor acts, by heading off to Paris for a video shoot. (The Mirror)

'With Ur Love' ruiner Mike Posner feels as though he is a rapper trapped inside a singer's body. (MTV)

This is a video interview with Mollie from The Saturdays. (Celebrity MSN) She should probably darn that hole in her jumper, it's only going to get worse if she leaves it.

Avril Lavigne was making Christmas biscuits yesterday. Here are the results. (Twitter)

Nicola Roberts and Little Mix were at the Film InStyle party last night. (InStyle) Diana Vickers was also 'in attendance'.

Joey McIntyre from New Kids On The Block has been talking about his exper­i­ence touring with the phe­nom­enal ('awful') super­group NKOTBSB. (Female First)

The delight­ful Frankie Cocozza 'appar­ently' had a ''babes bender'' with 12 women last night. (Daily Star)

Here is 'No Other One' hitmaker Taio Cruz doing a cover of Adele's 'Someone Like You'. (YouTube) You can tell he really means it as he's taken his sunglasses off.

And finally, Nicki Minaj has given further details about her second album. (Capital FM) It will be called 'Pink Friday: ROMAN RELOADED', and will be released on Valentine's Day. Fingers crossed for some more romantic bon mots along the lines of "if I had a dick I would pull it out and piss on 'em".
THAT WAS some of THE NEWS.