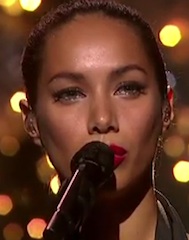 In a sure sign that her career is still hunky dory, Global Songstress Leona Lewis sang her three year old cover of 'Run' on the final of US X Factor last night. (Daily Mail) Justin Bieber duetted with Stevie Wonder, while Ne-Yo, Pitbull, and 50 Cent were also 'in attendance'. For those interested, Melanie Amaro won the show.

Sometimes a Quarter Pounder with cheese and a McFlurry are the only thing that can really hit the spot: Rihanna grabbed a late-night dinner at McDonalds after completing her six month residency at the O2 last night. (The Sun)

Adam Lambert has blamed his recent Finnish arrest on alcohol, travel, and "confusion". (Contactmusic)

Cher Lloyd's next single, 'Want U Back', now features US X Factor child Astro, aka The Astronomical Kid. (Official site) Well done Simon.

Here is a longish interview with Madonna talking about her film W.E. (The Telegraph) The words 'pop' and 'music' (or indeed 'gimme' and 'luvvin') appear to be missing from the article.

Ke$ha is up for two Peta awards, including the coveted Most Animal-Friendly Pop/Hip-Hop Artist, but she has some stiff competition from notable lover of animals Justin Bieber. (Stuff NZ)

Lookalike drawings of Lady Gaga, Rihanna, Katy Perry and Madonna have all appeared in a Batman comic called Batman Incorporated: Leviathan Strikes! (Billboard) No sign of Robyn, unfortunately.

Here is a photo of 'Call Me A Mack' hitmaker Usher proudly holding aloft his Civic Leader Of The Year Award, which looks like a brick. (Facebook)

And finally, Cheryl Cole's 'foray' into the world of shoe-designing might be over before it's begun, as the heels keep falling off. (The Huffington Post) Suppliers are warning "that there is a slight possibility your shoes may have a minor fault", which reads as "look don't buy them even though it's very near to Christmas and you completely forgot to get your sister a present, maybe just buy her some H&M vouchers or something".
THAT WAS some of THE NEWS.