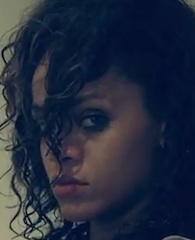 Rihanna's 'We Found Love' has now spent eight weeks at Number One on the Hot 100, beating her previous personal 'bests' for 'Umbrella' and 'Love The Way You Lie', which both spent seven weeks at the top. (Billboard) Which is all very nice, but the really good news is that it keeps LMFAO's 'Sexy And I Know It' at Number 2 for a seventh week.

One Direction began their 16-date tour in Wolverhampton Civic Centre last night, and as part of a pre-show ritual treat the 'lads' all ate a single Haribo sweet. (The Sun) One of the group photos includes Harry, Zayn, and even Niall pulling off some serious seriousface.

Christina Aguilera invited 50 of her 'closest' friends – and Adam Levine — to her 31st Birthday bash, where they all had fun playing games of Connect Four and Backgammon. (Us Weekly)

Rewind time and pre-set your video recorder to ITV2 imme­di­ately: R. Kelly and Alanis Morissette both sang duets with US X Factor con­test­ants on the pen­ul­tim­ate show of the series last night. (MTV) Avril Lavigne also performed to level out the 90s 'vibe'.

In further throwback news that will shock and surprise everyone, Serious Actor Justin Timberlake's 'Cry Me A River' was written about his one-time love Britney Spears after they'd had a fight. (Contactmusic)

In "hello, did you call me, which emergency service do you require" news, Nicola Roberts had a minor fire incident at home yesterday while she was wrapping presents near a lit candle. (Daily Star)

An unnamed Spanish man who appar­ently leaked Madonna's still-titled 'Gimme All Your Luvin' last month has been arrested. (Ace Showbiz) Imagine growing up without a name. :(

New Zealanders get ready: Jessie J is coming to a sing in a town that may or may not be near you (but you'll probably hear it wherever you are). (NZ Herald)

And finally, Justin Bieber went back to Canada to 'relax' and play some ice hockey. The pictures prove once and for all that nobody can make that 'woolly hat with bobble on top' look really work. Not even at Christmas. (Daily Mail)
THAT WAS some of THE NEWS.