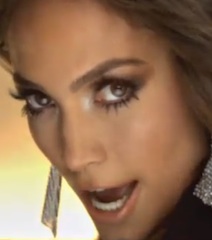 Jennifer Lopez's RedOne-produced-lamaza­thon 'On The Floor' has topped YouTube's most watched videos from major music labels list for 2011, after being viewed over 450 million times. (The Wall Street Journal) LMFAO have two videos in the Top 10 (dear God), while Pitbull features three times. Well done, 2011.

If you think a typical Christmas day for Beyoncé consists of her watching the EastEnders special, The Queen's Christmas Speech and maybe a Shrek film, think again: her family have a "no-TV zone" during the holidays. (Contactmusic)

Meanwhile, 'cousin' Kelly Rowland is looking forward to Christmas dinner being laid on her as she is planning to "eat, eat, eat" when the big day arrives. (Winnipeg Free Press)

JLS and Olly Murs have both topped the list of the hardest-working men in music, following a survey 'conducted' by PRS For Music. (Press Association) "I've achieved so much," notes Olly "It's great to be recog­nised for all the work I've put in." Such a modest guy.

Madonna classily brought her own wine and glasses to a res­taur­ant in New York recently. (The Telegraph)

Tinie Tempah and Labrinth will both be per­form­ing at next year's Isle of Wight Festival. (Isle of Wight County Press)

As far as X Factor-winner-single-videos go, the one for Little Mix's 'Cannonball' isn't par­tic­u­larly good. (YouTube)

A pho­to­graph of 'Should've Said No' hitmaker Taylor Swift promoting CoverGirl's NaturalLuxe Mousse Mascara has been banned in the UK for being too Photoshopped. (E! Online)

And finally, bets are off for next year's Nobel Prize in Literature, as Tulisa will be revis­it­ing all 23 years of her life in an auto­bi­o­graphy. (Daily Mirror)
THAT WAS some of THE NEWS.