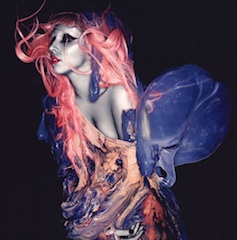 FEAR NOT!!! Lady Gaga's Born This Way Foundation – which focuses on "issues like self-con­fid­ence, well-being, anti-bullying, mentoring and career devel­op­ment" – is 'kicking off' with an event at Havard University on February 29. (Billboard)

This is a long and fairly inter­est­ing interview with Simon Cowell, in which talks about the various mistakes he made last year, his joy at 'stealing' Alesha Dixon from the BBC, and how this year's winner of Britain's Got Talent will hopefully have the chance to perform in space. (The Sun) "Of course we have to think about the details," he notes. "I mean, if you're a juggler then we'll need to make heavier balls." We are not sure he has quite grasped the finer points of zero gravity, but it's good he's thinking through the pitfalls.

Beyoncé has been nominated for Outstanding Female Artist and Outstanding Music Video at the 43rd NAACP Images Awards. (Neon Limelight) In what will appar­ently be 'de rigueur' for now until the end of time, Adele received some nom­in­a­tions as well.

Katy Perry performed for the first time since the announce­ment of her divorce at the Sentul International Convention Centre in Jakarta last night. (Ace Showbiz) The fan she kisses on stage genuinely looks in shock.

Nick Jonas of The Jonas Brothers has been speaking out against bullying, saying it "really breaks my heart to see that". (Contactmusic) CHEERS NICK THAT'S ALL VERY WELL BUT WHERE'S THE HARVARD ANNOUNCEMENT OF YOUR FOUNDATION, EH? EH???

Adam Lambert has described his Finnish fight as just "childish, foolish, messiness". (Celebuzz) Which makes it sound like quite a good night out, really, doesn't it.

Friend Of Pitbull Taio Cruz will be per­form­ing his latest single 'Troublemaker' on The Graham Norton Show tonight. (Taio Cruz Music) A treat to kickstart the weekend there, viewers!

It is Gary Barlow's 40th Birthday today. Let's celebrate this momentous occasion with one of his finest achieve­ments. (YouTube)

And finally, Cheryl Cole is shaking like a cool lemonade with worry that Tizer has been dis­con­tin­ued and has started a trending campaign to have it brought back. (Twitter) Thanks Cheryl.
THAT WAS some of THE NEWS.