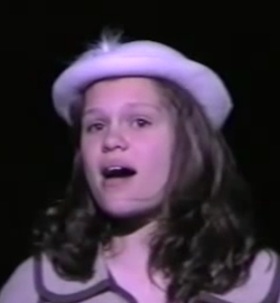 A treat for fans of Jessie J's earlier work: here she is in a school pro­duc­tion of Bugsy Malone. (The Sun)

Nicki Minaj is hoping to start a business empire that will topple Jay‑Z's. (Ace Showbiz) Nicki notes that in a recent con­ver­sa­tion with Jay‑Z "he said, 'Congratulations on all your success.' And I was like, 'Yeah, I'm coming for you. I'm coming for your spot, Mr. Mogul'." Do you think that's what she actually said to him? How rude.

Adam Lambert reckons that the best time for him to write love songs are when he's actually in love. (Fansshare) Fascinating.

'Country House' chanteuse Emeli Sandé is pretty happy about sup­port­ing Coldplay in the US next month. (Daily Star)

Ke$ha thinks she looks like Dog The Bounty Hunter. (Twitter) A quick Google search reveals that she may have a point.

If you've got a spare £10,000 and don't know what to do with it, you could always buy Elvis Presley's dental mould — up for auction in Stockport next week. (Daily Express) STOCKPORT.

If you can stand the horrible camera footage, this is 'appar­ently' Justin Bieber saying "fuck you!" to some 'fans' at Disneyland. (YouTube) To be honest it's about time some fans were told to fuck off — many are deeply unpleasant.

And finally, Frankie and Rochelle from The Saturdays have committed the "ultimate fashion faux pas" two days in a row by carrying the same bag. (Daily Mail) Both singers should probably be put to death for these regret­table life choices. What were they thinking? SEND THEM TO THE TOWER.
THAT WAS some of THE NEWS.