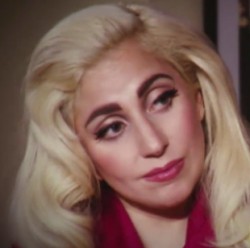 In 'we're not sure this is really going to happen' news, Lady Gaga claims that after her Oprah interview airs this weekend, she doesn't "intend to speak to anyone for a very long time… No press, no tele­vi­sion, if my mom calls and says, 'Did you hear about…' I shut it all off". (London Free Press)

Jessie J had "the most amazing but painful massage" in Hong Kong earlier today. (Twitter)

'Half Of My Heart' chanteuse Taylor Swift has "unleashed" the full version of 'Eyes Open', which features on The Hunger Games soundtrack. (Ace Showbiz)

Max from The Wanted has "thrown the first rabbit punch" at One Direction, stating that "our song is No4 in the charts. Maybe when they have a song right next to us in the charts over there, they'll be com­pet­i­tion". (The Sun) Good to see he's coping well with success and not acting like a dick, right viewers?

Meanwhile, according to "industry sources" One Direction's 'Up All Night' is on course to debut at Number One in the US album chart next week. (Billboard) ARE YOU HAPPY NOW MAX?

Madonna's released a one minute 'snippet' of 'Falling Free', which you can listen to here.

HE'S BACK: after nearly a decade-long "hiatus", 'Wrap My Words Around You' hitmaker Daniel Bedingfield has unveiled the video to his new song 'Rocks Off'. (YouTube) It's a bit of a racket.

Tom Chapman from Keane reckons that their last full album 'Perfect Symmetry' was "a little self-indulgent in places", and claims their new one has more single "con­tenders". (NME)

And finally, Adam Levine has been reas­sur­ing fans that his 'fragrance' 222 – which you'll be ecstatic to know will be available for both men and women – will be unlike any celebrity-endorsed smell that's come before. (Contactmusic) The mind boggles.
THAT WAS some of THE NEWS.