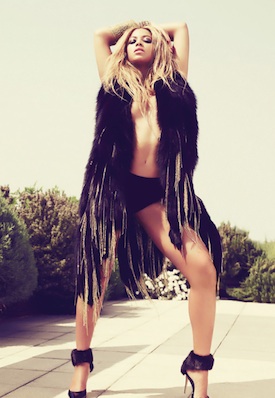 According to Ryan Tedder, Beyoncé will appar­ently have two albums out this year, with one poten­tially being the soundtrack to Clint Eastwood's A Star Is Born film. (MTV)

BRACE YOURSELF: RedOne has been chatting about his work with Nicki Minaj, saying that the under­stated 'Starships' is but one of four (FOUR) songs they've done together. (Billboard)

Tulisa looks like she's still working hard on her debut album in LA, as she's shown here getting mod­er­ately wet on the Jurassic Park ride at Universal Studios. (The Sun)

Usher gave the world a late night Valentine's Day gift yesterday in the form of his new Diplo-produced song 'Climax'. (That Grape Juice)

If you were worried about Adele's next album being called '27' or '28', fear not: she has laughed off the sug­ges­tion that she's going to take four or five years off, stating that'll be "more like 5 days!" (Ace Showbiz) Perhaps radio stations around the world could give Adele's tunes a five day break while they're at it too. Or even five minutes.

'Can We Chill' hitmaker Ne-Yo reckons that his next album will be out in June, with a new single "probably" out next month. (Pop Stop TV)

Don't expect Taylor Swift to be changing her clean-cut image any time soon, as she claims she'll never be the type of performer to dance in her bra. (OK! USA)

Emeli Sandé 'reveals' in this long-ish interview that having a brief chat with Madonna and hearing 'Heaven' being played in Topshop are just some of the "surreal" things happening in her life at the moment. (Irish Independent)

And finally, Cher Lloyd said a slightly mean thing on Real Radio North West about Cheryl Cole singing live, which Cheryl has 'appar­ently' responded to in the form of a "#unap­pre­ci­ation­isugly" hashtag. (Daily Mirror)
THAT WAS some of THE NEWS.