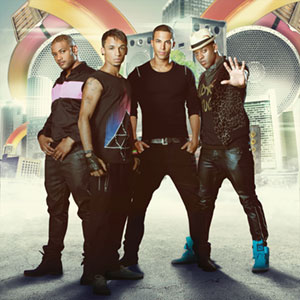 In news that has def­in­itely come about as a result of invest­ig­at­ive journ­al­ism and not just having been sent through from a PR, it seems JLS' insurers have told the group to stay at hotels with a "five-mile radius" from their upcoming tour venues, due to 'over-zealous' fans causing a bit of commotion last time. (Daily Mirror)

If you can't wait until the release of Katy Perry's 'Teenage Dream: The Complete Confection', here are some 'purported' snippets of tracks called 'Wide Awake' and 'Dressin' Up'. (Oh No They Didn't!)

Jessie J will be putting her inspir­a­tional words to print, as she's signed up to write an auto­bi­o­graphy ('self-help book'). (The Sun) If it's anything like her TwitLongers, we're in for a real treat.

Karis from Stooshe has 'revealed' that Bruno Mars came up to the group at the Brits and had a bit of a dance with them, which is good to know. (Daily Star)

Ashanti's video for 'The Woman You Love' featuring Cher Lloyd col­lab­or­ator Busta Rhymes has been unleashed. (YouTube) It's a bit bargain-basement 'ET' in places.

Ke$ha has announced that her new track is the "dawn of a new genre of music: COCK POP!!!" (Twitter) Well done everyone.

Justin Bieber may be forming a 'super­group' with Adam Levine, which he doesn't think the world is ready for. (Contactmusic) He's probably right in the sense that 'ready for' could also mean 'likely to enjoy very much'.

And finally, there are rumours going around that Authentic Chanteuse Lana Del Rey will be per­form­ing on American Idol tomorrow night, as she's been listed on audience members' tickets. (Idolator) But maybe she's just a big fan of Jennifer Lopez, who knows?
THAT WAS some of THE NEWS.